Johnny's Pub: One of 6th of October City's Few Bars
Le Pacha 1901 West, Arkan Mall (Plot 31)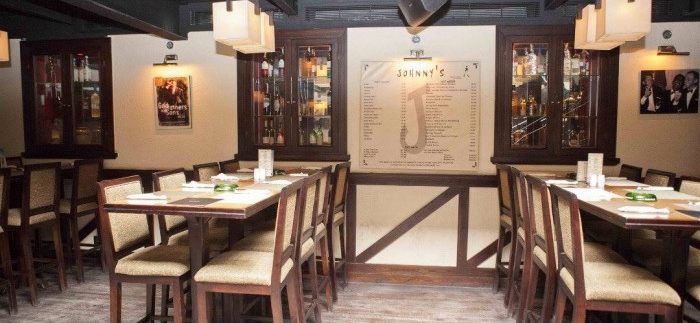 While Cairo nightlife tends to revolve around the centre of the city, Le Pacha 1901's Johnny's Pub has come to be a popular watering hole in the otherwise night-lifeless 6th of October City.
Located at the end of Arkan Mall, the venue is partially underground and is enetered by going down a few steps to the main door.
The indoor space is divided into three sections; as we entered through the main door, we were immediately seated on the ground floor where high-tables line the room. In the centre, a large, semi-circle bar surrounded by bar stools takes up most of the space, while a separate, small and secluded dining area is reserved for private parties. The DJ booth is elevated on a high platform, looking over the floor.
With a neat and orderly wooden interior and dimmed lighting, Johnny's boasts a vibe that is simple and no-thrills, but is still chic enough to attract an older crowd. While the place was not fully packed at the time of our visit, there was still a pleasing bustle that gave the place a friendly atmosphere
Peculiarly, Johnny's menu doesn't feature any cocktails, but this being a review and all, we decided to tests the bar staff's skills by ordering a Bullfrog cocktail – gin, tequila, vodka, white rum, blue curacao and Red Bull. What we received instead was a Long Island iced tea with Red Bull; while the two cocktails share ingredients, it simply wasn't a Bullfrog and we were charged separately for a Long Island iced tea and a can of Red Bull, which came to a rather extortionate total of 134.50LE.
We had a much easier time, however, ordering a single shot of whiskey on the rocks (77LE), a bottle of Heineken (28LE) and a Heineken draft (35LE), though the draft beer was criminally warm. Despite this, our drinks were served right away and the waiters were rather attentive throughout.
Johnny's isn't the place to go for a meal, but they do have plenty of attractive appetisers to nibble on, including Lebanese favourite, safayeh (27.90LE); four large pieces of grilled halloumi cheese wrapped in a soft crust. Our fried calamari strips (53.90LE) were seasoned to flavour well, but seemed overly fried, since the crisp kept falling off. We also tried a mini chicken shawerma platter (34.90LE), which came as six pieces round pieces of bread, stuffed with chopped, flavourful shawerma pieces. While there was nothing, extraordinary about our order, the portions were well sized to stifle our appetites.
If you're looking for a fun night with a rowdy crowd, then join Johnny's on Tuesday's for karaoke night. For the rest of the week, Johnny's ambience is more suitable for a laidback, intimate night with friends.