La Bodega: Iconic Cairo Nightspot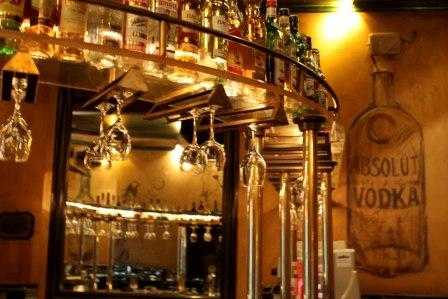 If you've lived in Cairo in the last ten years,
chances are you have found yourself in La Bodega at some point or another. This
quality nightspot has had an envious longevity over the years, with a strong and
loyal fan base thanks to its stylish atmosphere and trendy crowd.
La Bodega is divided into a large restaurant, a
lounge area and a tiny bar. The lounge area is a small, dark room with candles,
low tables and comfortable couches; a perfect spot to book for a private party.
Patrons are encouraged to wait in the lounge area until their tables are ready,
although you can choose to have your meal there. Given the room's supremely dim
lighting, it might be difficult to direct your fork safely towards your mouth;
while the sunken, red velvet couches make it almost impossible to eat off the
equally low oak tables.
The restaurant area is elegantly decorated with
large green curtains, French windows and booth seating along one wall of the
room. La Bodega's food is a bit of a hit-and-miss; some love it, while
others just stick to their cocktails. The restaurant offers a three-course set
menu between 5:30PM and 9:00PM for 72LE, with a vegetarian meal option for
55LE.
The á-la-carte menu includes meat, chicken and
seafood options. For an appetiser, the
grilled aubergine halloumi dish (35LE) is highly recommended, while the main
course of tuna with lime pepper crust (66LE) is a little disappointing, with
the crust grilled a little too long. The meli meli salmon (68LE) is
well cooked, though its side order of potatoes and broccoli could be more generous.
The only fly in La Bodega's ointment is its wait
staff that will regularly pass you by no matter how fervently you wave and
call; even if you're the only dinner party in the room.
La Bodega's bar
attracts the largest crowd on any given day of the week. The bar is small and
holds only a few high tables and a very narrow u-shaped bar. Nine times out of
ten, you'll be standing with your drink for most of the night, unless you've
had the forethought to arrive in the early evening.
The bar's drinks are reasonably priced for such a classy venue: a Stella
Local is 20LE, while a glass of Grand Marquis is 29LE. Cocktails (40LE) are not
their strongest point; on a recent visit the strawberry daiquiri had barely any
rum, while the Caipirinha was delicious but needed a stronger lemon twist to
it.
Be warned, though: La Bodega on a weekend is as
tough to navigate as a Victorian maze, and the bouncers are as unrelenting as a
wall. To top it all off, the bar and restaurant impose a 125LE minimum; even if you just want
to have a quick drink. That being said, the bar has a relaxed and chic
atmosphere that makes it a nice spot for a post-work drink with friends.