L'Aubergine: Infusing Life into the Heliopolis Bar Scene
131 Omar Ebn El Khattab St.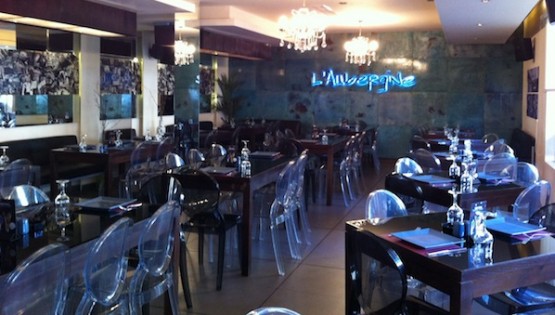 The neighbourhood
of Heliopolis has a lot to offer when it comes to shopping, dining and general comfortable living. Unfortunately, that is more or less where it
stops since in terms of nightlife there aren't too many options. Enter L'Aubergine. Zamalek's old favourite has extended its reach, all the way to Heliopolis.
The interior of
L'Aubergine Heliopolis is fresh and funky keeping with a modern style; large
windows look out on the street and open the space up. With seats placed
directly by these windows, it's a novel and enjoyable experience to go out for
a drink in Cairo and enjoy the outside view with the occasional tram passing
by.
L'Aubergine is
divided in two different areas. The first one has a seating area where you
can have dinner; the Plexiglas chairs are quirky yet comfortable.
The other area, more suitable for just having drinks, is at the bar and includes
the area behind it. However, if you choose to sit here you will miss out on the
view since you'd be tucked behind a wall.
Apart from beer and
wine L'Aubergine only serves non-alcoholic cocktails – though we're told that management is working on bringing hard liquor to the equation. We tried the virgin Bellini
(20LE) but were quite disappointed. We'd expected a peachy drink but
ended up with bubblegum-infused water. Perhaps for this reason it's better to
stick with a glass of Cape Bay (47LE).
The food menu is
extensive, ranging from smaller snacks to full meals. The tomato, mozzarella and
basil salad (24LE) was refreshing and came in a relatively big portion; we were
especially pleased with the real basil which was in it – often a rarity in
Cairo. The mussels with lemon (38LE) were also quite generous in portion and
while the mussels themselves were tasty, the lemon was undetectable; some of
the mussels were pretty stuck to their shell and were impossible to extract. If
you want to try something a bit more exotic, the Yakitori shrimp with pineapple
(76LE) is a good option. Drenched in Yakitori sauce, the addition of pineapple makes
for a very refreshing dish.
In the evening,
L'Aubergine hosts a busy crowd of locals yearning for a drink or a meal. On the
weekends it's best to make reservations. The staff are accommodating but were a bit
slow when it came to the drinks, whereas the food on the other hand was served quite swiftly.

If you're in the
area and are looking for a safe place to grab a drink or snack, then L'Aubergine, just like its Zamalek counterpart, will most likely hit the spot.