L'Aubergine: Nightlife Favourite's Heliopolis Branch Fails to Measure Up to the Original
131 Omar Ebn El Khattab St.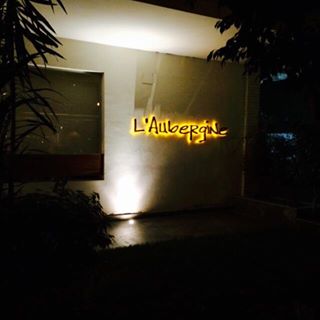 For the longest time, bars in Cairo were predominantly, and maybe even justifiably, concentrated in the central areas of the capital, leaving residents of the city's outskirts, in places like 6th of October City, Heliopolis and even Maadi, to make an exhaustive trip into town – and an even more exhaustive trip back – in search of that thing we call nightlife.
Two or so years or go, however, Heliopolis nightlife exploded (a little); one piece of the proverbial shrapnel that subsequently landed on a dark and sleepy stretch of Omar Ebn El Khattab Street was L'Aubergine.
A longstanding favourite in Zamalek, the bar's move to Masr El Gedida was a risky one and, though it has stood strong since, there's a set of drawbacks that have led the bar to plateau.
Said drawbacks are superseded by one – and it's a biggie: the fact that the sleek and aesthetically-clean bar does not have a license to serve imported spirits. No one has been a more ardent supporter of local industry than Cairo 360 and the #BuyLocal trend, but we'd be kidding ourselves if we try to apply this to alcohol.
One way to get around this problem is to order a cocktail, which the L'Aubergine staff pull-off pretty well and, as the spirits are local, they're deliciously cheap. A classic whiskey sour (30LE) was served in generous amount and was chugged down pretty quickly. Two of the more peculiarly named cocktails produced mixed results, though. The Sexy Bitch (30LE) saw vodka, pineapple juice, blue curaçao and grenadine served in a tall glass, but was sickly sweet and too heavy on the pineapple. The Horny Paul (45LE), however, packed much more of a punch, thanks to its combination of vodka, tequila, rum and lemonade; it was sharp, tangy and surprisingly refreshing and you could taste all three spirits. Away from the cocktails, beers are between 30LE and 35LE – a safe and reasonably-priced choice.
If you can overlook this imported-spirit-deficiency, then L'Aubergine is a pleasant, if unremarkable, bar where one can enjoy a casual drink with chums – at least that's what one would hope. Unlike the Zamalek branch's organically nonchalant atmosphere, L'Aubergine Heliopolis hovers over the idea of being a high-end lounge without really committing to it or any other personality. The decor is dark, cold, cool and demure – all acceptable attributes of a bar. But loud, inappropriately energetic and bass-ridden music, peculiar transparent cafe chairs and TV screens systematically jolt you out of getting comfortable.
In fairness, the venue as a space is treated sensibly and you can find seclusion on the higher round tables and stools, but it's difficult to judge whether one should turn up in smart, tucked-in shirt or more casual attire.