Library Bar: Marvellous Tapas at the Four Seasons Cairo
Four Seasons Hotel Cairo at The First Residence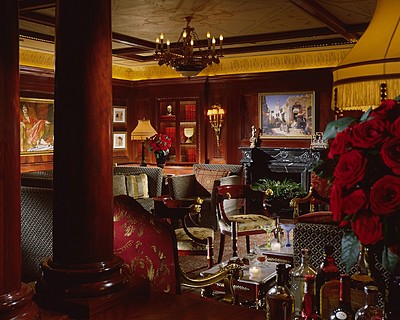 More than
just a lounge or bar, this is the Four Seasons First Residence's crown jewel.
Seemingly conceived in design by a grand lover of life, Library Bar constitutes
everything a mature drinker would want in a space dedicated to enjoying a
tipple in Cairo.
It's
actually for this reason that the idea of a tapas menu had Cairo 360's eyebrows
raised. Said menu is decidedly
un-Spanish; the dishes are split into sections, none of which have any hint of the
concepts' origins. Yet for all the options before you, this will be easily
forgiven, maybe even applauded.
At 100LE,
the seafood konafa is amongst the most expensive of the dishes, but what
arrives in front of you seems so much more valuable. Presented with tomato salsa, sweet chilli sauce,
and miso sauce, six distinctively shaped konafa-wrapped pieces of seafood are
piled up; two shrimp, two crab, two scallop.
Unless you
have an aversion to the brittle crumble of konafa, each piece is better than
the last; cooked perfectly, both inside and out. The three shot-glass-held
sauces do pose a conundrum, though. The miso sauce, for instance, tasted very
alike tartar sauce and the scallops, for example, were far too delicate to cope
with it. Each sauce is completely inoffensive, but it does take a shrewd tongue
to create the right combination.
A little
less complex, the Angus beef balls also offer very different options. For your
precious 90LE, the beef can be eaten either with a thick and bold-flavoured
tomato salsa or a light and appetising broccoli chicken consommé. The latter in
particular is outstanding; full of chicken stock and broccoli flavours.
Proceedings
get even more austere with the mushroom risotto, which stands at 75LE. A simple
serving of mushroom risotto comes with a generous ration of fried mushroom
balls. Both rather plain in comparison to the prior two dishes, the risotto was
slightly overcooked and the coating of the mushroom balls was denser than it
should be, considering the delicate mushrooms inside.
The variety
of the dishes is impressive, with other options ranging from mini burgers and
spring rolls, to curry cakes and satay skewers. Prices are a little steep, but
it all pays towards an already unique dining experience.
The
inspiration behind this menu has repurposed tapas as high-end bar food in the
most wonderful and natural of ways. Library Bar's tapas are unequivocally like
anything to be found in Cairo; big flavours delivered delicately.