Loft21: Fine-Dining & Nightlife Come Together in Perfect Harmony at Cairo Capital Club
Cairo Capital Club, 9 Rostom St. (Next to Taboula)
There's a general feeling across Cairo that suggests that the city's restaurateurs haven't quite figured out how to bring nightlife into the already complex dining equation; an equation that has been the death of many initially promising ventures that tried to do so. Alchemy is one prime example; though praised from all quarters of both their dining and nightlife attributes, the two elements were never really able to find some kind of point of synchronisation in the minds of discerning Cairenes.
But the Tap, which opened a new branch in New Cairo this month and will be opening a third in Sheikh Zayed's Westown Hub towards the end of the year, has shown that it can be done and so has Cairo Capital Club, but with a very different approach to the more gastro-pub-insipred Maadi bar.
Outrageous minimum charge aside, Dos Canas was the first to open at the Garden City-located huddle of venues, though Loft21 has been threatening to take the reigns as the CCC's premiere spot.
Though it took some while to fill up with guests at the time of our visit, Loft21 certainly boasts a unique atmosphere – one reminiscent of hip, overpriced Manhattan bar. The key to that are two things; the stunning Nile view that frames the evening lights of Cairo almost idyllically; and the fact that Loft21's general aesthetic is chic, sleek and, most importantly, simple.
If there's one word to best evaluate the feel of Loft21, its subtle; nothing jumps out at you, or is even necessarily memorable, but this very deliberate approach fits what the guys behind the scenes like to call The Loft Experience.
And an experience it is. Not unlike its neighbouring Dos Canas, prices are very much entrenched on the expensive side of the scale; Beef Carpaccio and Salmon tartare starters set us back 103LE and 108LE, respectively. The latter was zinging with the fresh, raw, sharp flavours of a seafood tartare – but is it worth 100LE-plus? That's open to interpretation, as is the price of the carpaccio, which was clearly of a good sirloin cut and generous on the parmesan.
Mains, meanwhile, are just as elaborate and spectacular as you'd expect – none more so than a 215LE scallop dish. The four large pieces each sat on a mound of champagne risotto, topped with caviar and indiscernible foam that gave each bite a nice acidic touch to the otherwise rich components. The scallops themselves were slightly overcooked and were a little chewy, though the perfectly cooked risotto did maintain its sharp champagne kick to great effect.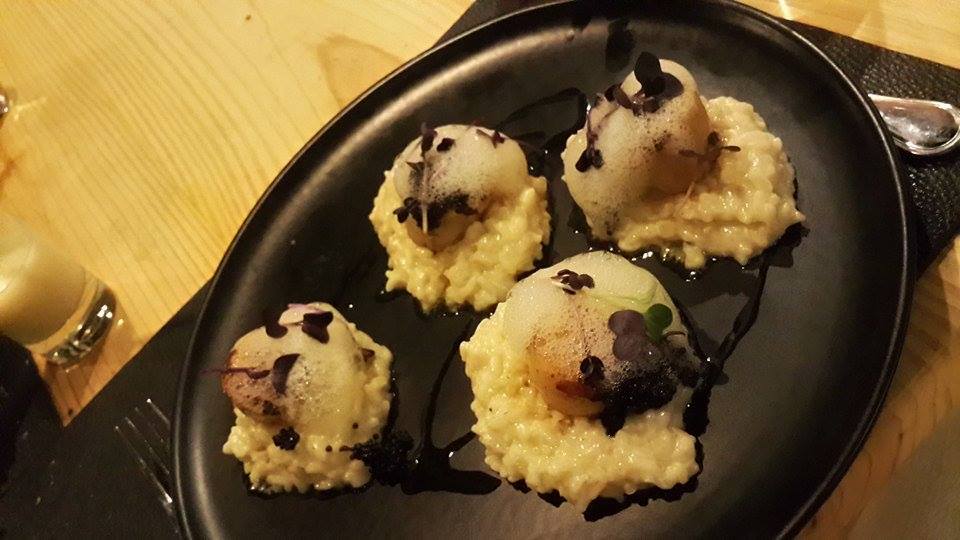 A slightly simpler, but no less delicious, dish is the Honey Roasted Chicken Breast (118LE). Grilled to a perfect outer crisp and tender centre, the dish was made more interesting by a delectably sweet raisin sauce and a serving of barley, as well as a whole roasted garlic – which is worth the hassle of trying to dissect.
As with any respectable evening-time haunt, cocktails (90LE-100LE) are aplenty, as are wines and beers; we enjoyed a couple of Sakaras at 40LE a pop and there was even Corona (100LE per bottle) available at the time of our visit. The prompt bar staff whipped us up a perfect Chinatown – apples, ginger, vodka, and pomegranate – while other creative cocktails include The Ellis (Cardamom, Whiskey, Pineapple, Orange Juice) and The Yellowstone (Whiskey, Cranberry, Apples, Mint, Lemons) amongst a list of twenty overall cocktail options.
Essentially, The Loft Experience is whatever you want it to be. It works as a casual drinking hangout, but can also cater to a more formal dining experience. But even if the latter is what you're looking for, you'll invariably find yourself unshackling any kind of formalness to take in what is a smart, elegant and easy package of food, drinks and socialising.