Lotus Inn: Quiet Downtown Baladi Bar with Private Balcony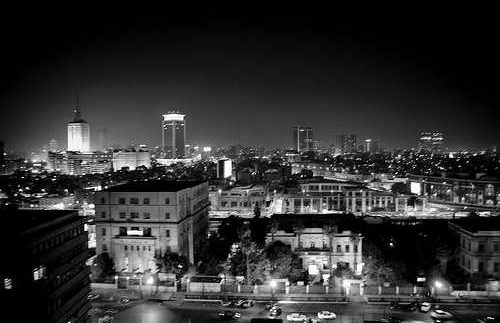 By night, baladi bars are nothing short of a way of life in Downtown Cairo. While we all know famous baladi bar hangouts like El
Horreya and Stella,
they're far from ideal when looking for some privacy.
So if you're hoping to catch up with an old friend or getting to know a
special someone without running into dozens of your Downtown friends, head over
to Lotus Inn's bar. It's conveniently located by Stella Bar and Estoril, so you can pop over to the
more popular bars later in the night.
The bar at the Lotus Inn is located on the rooftop of the hotel. The
décor is a bit retro 70s with heavy, flowered draping and glass-tiled ceilings.
The main room is long and tubular with four seats evenly spread out opposite from
the bar. The hidden secret is the tiny balcony that comfortably seats two or
three people. There is usually absolutely not a soul in sight except for the
man behind the bar dressed in a white dress shirt and suit pants. There's only
one thing on the menu, and that's a cold Stella beer for only 10LE.
Because the venue is so small, this is not the place for a group of more
than three or four people unless they don't mind being separated. A couple can
fit on the outdoor balcony and the others can drink inside. That being said; this
very weakness makes the bar perfect for an intimate get-together. The barman is
never intrusive and leaves couples on the rooftop to enjoy their company and
beers in peace.
The nice outdoor space and the fact that no one frequents this hidden
watering hole is reason enough to give it a chance on a lazy Thursday night. Although
there is no termis on site, the barman is always more than happy to serve you
chipsy crisps. He is even known on occasion to go out and get some if you'll happily
send him off with a pound or two.