Mojo's: The New Hot Spot in Town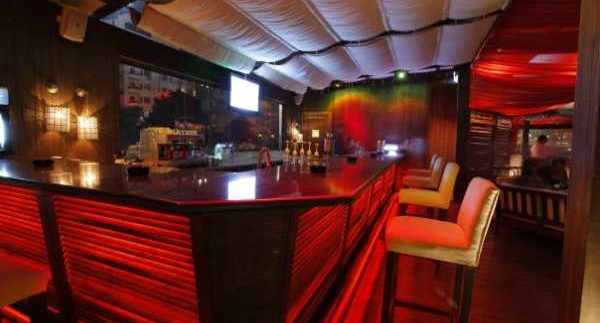 Only open for a few months, the Imperial Boat's Mojo's provides a chic new nightspot to the Zamalek scene. In direct contrast to the boat's other somewhat notorious nightspot Purple, the out-door "Sequoia-esque" atmosphere has been captured in this glass-enclosed venue overlooking the Nile.

Word on the street is that Mojo's is now the "it" birthday place in town which can be a major turn off to many. On any given weekend countless sparkling cakes and birthday choruses are to be seen and heard, as the shiny new party-goers strive to be, well, seen and heard, so make sure you reserve well in advance.

The shisha is excellent, and the guava flavour in particular is lush as are the smooth watermelon and crispy lemon, and the coal is plentiful and frequently refreshed on weekdays. If the place is bustling it's a little harder to flag down the shisha guy, however. The service is good and suited to the relaxed atmosphere, not hovering and then disappearing ala the usual Cairo fashion.

The view is stellar and its location on board the Imperial shelters it from the elements, making it appealing year round. There's an air of seclusion to the place and it is somehow separated from Cairo's traffic and noise with its wooden floors, outdoor deck feel and gauzy red curtains, which stand out in contrast to the all white seating. The chairs are cushioned and the lamps cast a warm glow, creating the feeling of a summer evening. Mojo's isn't overly crowded on weekdays, but come the weekend it's packed and smoky.

The menu has a delectable range of appetisers with the Frito Scampi a delicate twist on batter fried shrimp with tangy tartar dip. The ravioli is good with an array of tasty fillings while the pizza, always a luck of the draw order, has the right amount of sauce to cheese, and the addictive fries come golden-brown.

The food, coffee and shisha are all well above average and worth the weekend minimum charge of 100LE though the 80LE on weekdays for a quick stop by is a bit much.

Mojo's is providing a much-needed spot in Zamalek that's an upgraded but more relaxed night spot, cleverly combining shisha, good food, drink and Sequoia's ambiance.