Mojo's: Zamalek Open-Air Sohour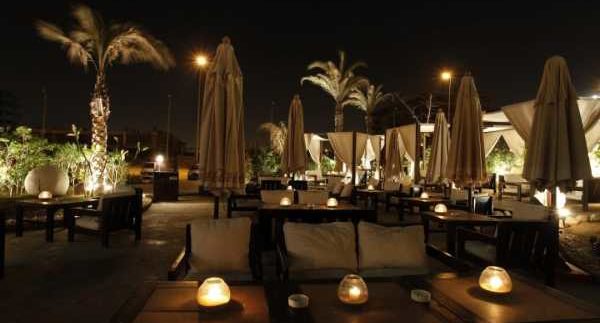 Ramadan brings with it a season of long, festive nights with
friends, sipping tea, perhaps enjoying a shisha and a reprieve from the
oppressive heat of August; while snacking on nearly anything we can get our hands
on.
Zamalek nightspot Mojo's has done away with its dramatic red
curtains of the colder months, and has drawn back the canvases to make the most
of its open-air, top-deck location on the Imperial Boat. The dark wooden
furniture and walls strike a dramatic tone with some sparse lantern decorations
and a view of the city skyline, but the interior design seems to be aiming for
simplicity.
As with many popular nightspots in Ramadan, Mojo has altered
its hours and menu to cater to the post-fetar crowd of the younger generations.
The menu has all our sohour bases covered, with a foul
section featuring several varieties of the bean; from foul served with olive
oil to medammes. Foul choices are in the 15LE-range and come served with thin,
slightly dry shami bread. In addition, the menu lists a standard mezza section
with hummus, sambousak and baba ghanoug as well as tehina, calamari and more.
It's hard not to be sceptical when items such as foul,
taameya and eggs are served up in the kitchens of upmarket hangouts. Besides
the koshary, foul and molokheya created in Cairo's home kitchens, the tastiest
renditions of traditional sohour fare is usually found at modest street stalls.
Sadly, our scepticism was justified. We weren't terribly
encouraged by the fact that very few patrons were caught eating the menu's imitation
street-style cuisine, and our own attempt left an unfinished plate.
The menu also has a series of omelettes; (20LE to 40LE)
designed to tide you over for the coming day, and filled with basterma, cheeses
or vegetables. The menu also includes a page-long sandwich section offering
clubs and brown bread options (20LE to 50LE).
Sahlab is listed in the dessert section along with karkadeh,
tamr hindi, kharoub and fresh juices.
Earning top marks for decor and peaceful ambiance, but
lagging a little with its cuisine, Mojo's nonetheless makes an enjoyable place
to pass the sohour hours.