Moon Deck: Nile Boat Blues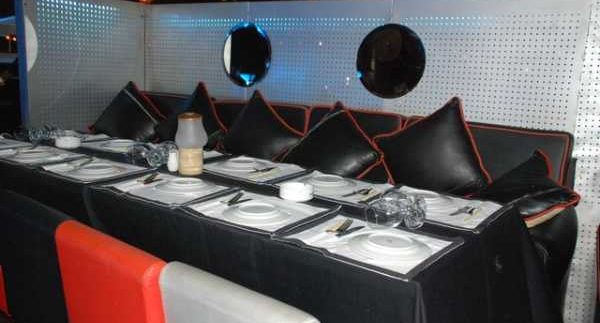 A view of Cairo's Downtown skyline, a light breeze over the Nile, and a spot
on one of Zamalek's popular river boats all make Moon Deck an enticing option
for an early evening drink. Perched atop the Blue Nile Boat, the restaurant and
lounge is all lit up; but as we well know, even the moon has a dark side.
At the time of this reviewer's visit, we were told that we were not eligible
for either a high top table or a spot closer to the edge of the boat; because
of our party's small size. Instead, we were seated at a tiny table near the
centre of the deck. Figuring that this would help expedite our food and drinks;
we didn't put up much of a fuss. Several requests and a lengthy wait resulted
in a single food menu and upon further request, a drink menu with the text
washed away from too many spills.
After a rousing game with a waiter of 'guess what is actually
available from our long menu,' we placed an order for the special mixed grill
(99LE), which included kofta, chicken and beef kabab, as well as pigeon and
veal. We also ordered some salmon and tuna nigiri (10.50LE a piece) and a
halloumi man'oucheh (30LE), as well as drinks from the neon-blue lit bar. The
grill was served cool; it then became cold quickly in the open-air setting and
wasn't seasoned so well. The tuna nigiri was just fine; but there wasn't enough
wasabi or pickled ginger to kill the fishy taste of the salmon. The halloumi
man'oucheh was much better; served with plenty of shredded cheese atop a
delicious round crust and cut like a pizza, it made for a tasty and
easy-to-share snack with drinks.
A Bloody Mary (65LE) is served with a lime and either Absolut or Smirnoff,
though ours did not have much of either. Although the drink is on the weaker
side, the bartender does take into consideration how spicy you'd like it, which
is a nice touch. A dry vodka martini (65LE) is served with an excessive amount
of vermouth, a few torn olives and a slice of lime, which is not such a nice
touch. Needless to say, we don't recommend this classic cocktail at Moon Deck.

For a heavier pour, order a spirit– vodkas cost around 40LE, whiskeys start
at 65LE– and mixer; but just be prepared to pay 13LE for a full can of soda to
pour a bit in with your drink.