Nomad: Dokki's Rooftop Watering Hole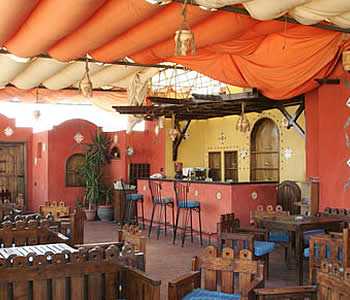 The name 'Nomad' implies that
you might just pass through, but this Cairo rooftop bar is a fine place to kick back in for a while. Located on the top floor of the King Hotel in Dokki, Nomad serves food
and drinks, and is a perfect spot for a relaxed evening after you've finished your daily
commute.
Although it doesn't have a Nile
view, Nomad's panorama is still a satisfying skyline. Unfortunately, the entire area is roofed and
the balcony's edge is quite high, so you don't get the full wind-in-your-hair
breeze that you'd expect. However, the air is still considerably fresher when
you're ten floors above the streets below.
Nomad's decor is simple yet
comfortable. Sturdy outdoor furniture is
covered by thick red cushions, and potted plants spread throughout the space,
adding some always-appreciated greenery.
The bar is not known for its superior
service. It may take some effort to get the attention of the server, and you
may have to wait a while for your drink or shisha. However, if you are not in a rush and don't
mind hearing the same Madonna song a few times before someone notices and
changes the track; Nomad is a decent place to hang out with friends, have a few
beverages and maybe a small meal.
The highlight of the Nomad
experience was the impressively cold drinks. A bottle of chilled Sakkara (17LE) is presented with a properly frosted
mug. The glass of Grand Marquis White (27LE) is poured to the very top, and so
cold that condensation builds on the outside of the glass. Such details are not
to be taken for granted in an outdoor bar in Cairo.
In general, the food was tasty: a plate of chicken with mushrooms (38LE) was
served with both white and cinnamon rice, which was an odd pairing, but had a
nice flavour on its own. The mushrooms
and cream sauce were also warm and comforting; but the chicken suffered from a
few hard bits and was a slight turn-off.
We recommend sticking with the lighter
fare, especially the fried halloumi appetiser (22LE). This modest yet filling
plate features two slices of French bread smothered with melted kashkaval and
fried halloumi, dusted with pepper and accompanied by thick slices of
deliciously juicy tomato and French cucumber. Paired with icy drinks, this turned out to be quite a perfect summer
treat.