Orchid: Deck Boat Attempt at Cairo Nightspot
23 Str Cornish El Giza, next to Gamaa bridge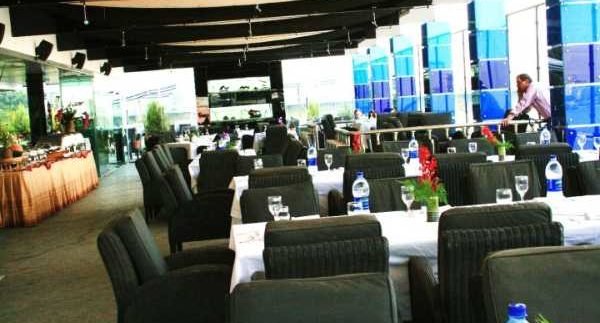 With summer
nights in Cairo often just as intoxicatingly hot as the days, a new open-air
nightspot on the Nile sounds like an interesting, albeit risky alternative to
the been-there-done-that five or so clubs that everyone goes to (you know who
you are).
Located on the
Trianon Boat in Giza , Orchid is a
nightclub/lounge/restaurant attempting to take a piece out of the Cairo nightlife pie.
Despite elaborate decorations, a fish tank wall, Thai statues and pink ceiling
lighting; the place is still pretty much a sheltered boat deck, something that
you immediately recognise when you tread on the squeaky and faded wooden
floorboards.
Guests are
greeted at Orchid's entrance by several well-dressed foreign hostesses that
guide you to your seat. You can either choose a quiet table with comfortable
lounge chairs on one side; or a table on the open-air part of the deck, where
you can enjoy a shisha while watching the widescreen TV. The centre of the
indoor space is kept free for a dance-floor area that picks up on Wednesdays,
while Tuesdays are scheduled for karaoke nights.
At the other end
of the room, an L-shaped bar contains a blue fish tank that's worryingly empty;
considering that they serve all-you-can-eat sushi. We want fresh sushi; but we
don't necessarily want it that fresh.
Aside from its
selection of classic cocktails (starting 50LE), juices (20LE) and sodas (15LE),
the bar also serves its own concoction of cocktails. We opted for the
creatively named Crocodile in The Nile cocktail, but were promptly shot down by
our enthusiastic barman, who insisted that we try the perfectly named Dawa
(56LE): vodka and lemon mixed with a large spoon of white honey. We should have
never trusted the waiter; anything that is called medicine is bound to taste
like it.
Stick to safe
options, like the Sakkara Gold (25LE) or a Black Label with Coca Cola
(100LE). A set menu of four finger food
options (100LE) includes shrimp tempura and vegetable rolls for a quick
pre-dance floor bite, but the room's damp and humid air could easily put you
off your appetite.
This is one of
the disadvantages of having an open-air nightclub on the Nile.
As picturesque as the view may be with a soft Nile
breeze; it can also get unbearably humid at night. Luckily, on a recent visit,
we were happy to note that the management had taken initiative by installing
A/C in various corners of the club.
The other
downside to this club is that, despite its best intentions, it lacks the
sophistication expected at other venues. It was a little distracting to have so
many waiters loitering around, and they could have easily handed over our
change with a receipt on a plate as you should, instead of coming up to our
group and jovially placing a mound of coins into our unwilling hands. Yes, this
is no big deal, but it's the little things that separate the good nightclubs
from the ok-but-not-amazing.