Regina: Elusive After-Hours Nightclub on Giza Corniche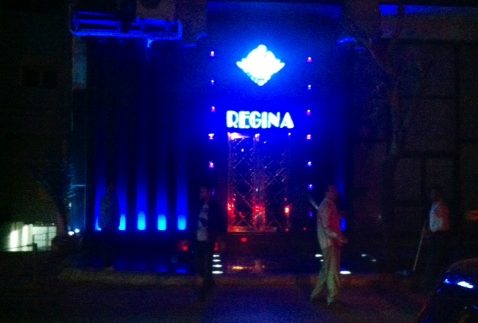 From the outside, Regina seduced us with blue neon lights surrounding its large, shiny, metal door. Rarely appearing open, other than witnessing people leave at the crack of dawn, this place is certainly one of the more mysterious on the Giza Corniche.
Going through a nocturnal phase, we rocked up at Regina at around 1.30AM to find out about the late night parties we'd heard of but never seen.
We felt like celebrities as both of the imposing, double doors were swung open upon our arrival. We gingerly entered the spacious lobby and revelled over the floor to ceiling mirrors. We were greeted by a number of staff and informed they were not open for another half an hour but they were more than happy to accommodate us.
We were lead through a narrow, mirrored corridor and noticed how things began to get a lot darker, so dark in fact, it took a while for our eyes to adjust. At the end of the tunnel, the room opened up into a huge space with hundreds of candlelit tables spread outwards, backwards and to the sides of us, including raised platforms at the back the majority of which were reserved and began filling up at around 2.30AM. Our minds were made up – Regina was designed for a secret clan of nocturnal vampires. Either that or some serious party animals with no desire to go home at the normal closing time.
A large DJ booth is positioned behind the dance floor which we thought was quite small in comparison to the rest of the club. The neon blue lights and mirror theme is continued throughout the club, causing the laser lights from the DJ booth to bounce around like a strobe show. The night we were there, the music was a mixture of Khaleji and English chart music, remixed with dance beats which made a nice change from the usual, repetitive house/trance music that seems to be popular these days. We noticed several people enjoying a shisha, although, the smoke didn't stick around as the place is chilled by a mammoth air conditioning system.
Our tickets were a little on the high side – maybe because it was the weekend – and cost 300LE each. Clocking our perplexed expressions, the waiter explained that the ticket included a dish and non-alcoholic drinks which made us feel a little better. However, when we asked to see a menu, we were told they didn't have one because they serve everything, which was very strange reasoning in our opinion.
Anyhow, we ordered a caprese salad – which they didn't have – and subsequently unleashed one of our best 'we told you so' looks to the waiter. After suggesting a couple of options, we decided on a grilled chicken dish, a Greek salad, a non-alcoholic piña colada and a strawberry daiquiri.
The drinks arrived and were beyond heavenly. They were both smooth and slushy; the piña colada tasted stongly of fresh coconut and the daquiri tasted like sweet, over ripe strawberries. Although we opted to not pay an extra 150LE per alcoholic cocktail, judging by these, the bar men at Regina know how to mix one.
The food, however, was a different story. The grilled chicken was dry, and called for lashings of tomato ketchup, as did the undercooked chips. The Greek salad was nicely presented but incredibly salty and not as crisp as it should have been; the feta cheese was nice and creamy, but not spectacular enough to save the whole dish.
Despite the expense of this place, we were surprised that no dress sense, uh, we mean dress code was enforced. If you're looking for a late night adventure, and are willing to pay highly for it, then Regina could offer you some form of amusement.