Roof Bar: Heavenly Nightclub at Gabriel Hotel
Gabriel Hotel, Sun City Mall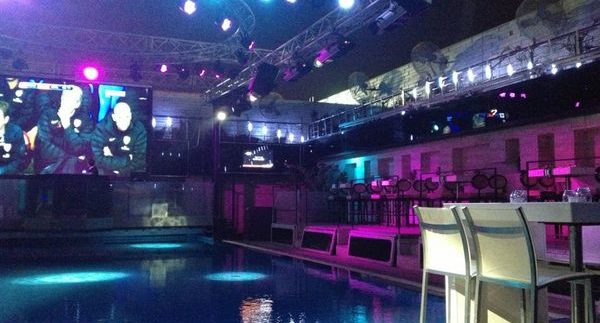 On the roof of the recently opened Gabriel Hotel in Heliopolis' Sun City Mall, newly opened bar and club, Roof Bar, is contemporary and classy, complete with its own swimming pool centrepiece. Although the only entrance is from the car park, any feelings of dinginess quickly disappear as you step into a tunnel lined with exotic plants and flat screen TVs, leading out into the bright lights of the club.
Upon entering, you are presented with the choice of two fully stocked bars, high tables, cosy sofas and pool side tables. Of course, the swimming pool right in the middle is particularly hard to miss. This, and the large DJ booth with a wide screen backdrop, gives the club a Mediterranean, holiday feel and instantly puts you in the mood to sip on cocktails and dance the night away.
We were quickly greeted by one of the impeccably dressed staff members and shown to the table of our choice. Because of the name of the hotel, Gabriel, we thought it was quite fitting how every waiter was dressed completely in white, flittering around as angel-like figures.
With so much attention to detail in the décor of this beautiful place, we were surprised to learn that there were neither food nor drink menus. However, the experienced waiter proceeded to reel off a list of cocktails he knew by heart. We settled on one Sex on the Beach (85LE), a Disaronno with orange and cranberry juice (85LE) and, to test the barman's mixing skills and originality, we requested two random sweet cocktails called 'Crazy B*tch' and 'Dark Man' (85LE each). The Sex on the Beach was delicious and fruity, with a satisfactory aftertaste of rum. The Disaronno mixture was as sweet as always and went down fairly swiftly. Both of the original cocktails were exactly what we asked for; strong and sweet, and being vodka based, they left us feeling slightly tipsy.
When we inquired about the food, we were informed that we had a choice of fresh sushi, appetisers and main courses. Again, the waiter verbally bombarded us with a list of food. Admittedly, it was impressive that he could remember so much, but we would have rather been able to take our time in contemplating the food over a written list.
We ordered the dishes that stood out to us; beef in pepper sauce (150LE) and shrimp spring rolls (90LE). A large basket of fresh, complimentary bread rolls was delivered to our table. Both starters arrived soon afterwards and were absolutely flawless. The beef was tender and cooked in whole black peppercorns and cut into bite sized chunks which, made it easy to share. The spring rolls were hot, crispy, incredibly fresh and served with two chilli sauces – one much spicier than the other.
Whilst we were toe tapping along to the chilled dance music, we noticed that, although the breeze was nicely refreshing, it is likely to get significantly colder over the winter months. Luckily, the bar is surrounded by sliding glass which will allow the venue to keep its rooftop charm even when it needs to be enclosed.
In our opinion The Roof Bar would be near the top of our list for nights out at the weekend or an impressive – albeit expensive – choice for a first date; it's definitely worth the money.