Rooftop Garden at Karvin Hotel: Chill Heliopolis Bar and Shisha Hangout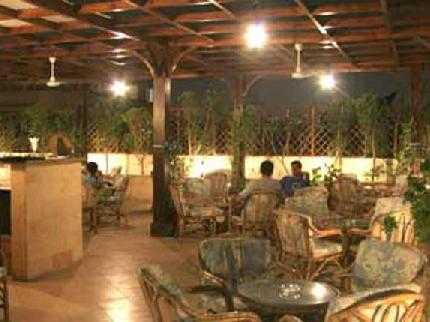 There are limited places in Heliopolis where friends
can enjoy themselves in the open air with good food, cold drinks and shisha.
The Rooftop Garden is a cosy bar and restaurant at
the Karvin Hotel that's a great place to unwind after a long week with some
good company. With an impressive drinks menu, many shisha flavours and
delicious entrées, the Rooftop Garden is a well-kept Heliopolis nightlife secret.
Drinks come in many varieties. Beer options include Stella
(16LE), Meister Max, Sakkara and Heineken. Available wines include red and
white wines of the Omar Khayyam, Sheherazad and Cape Bay
brands, which can be purchased by the glass (25LE) or by the bottle (100LE). The
Rooftop Garden also imports spirits including
imported gin, vodka and cognac (70LE). Spirits and beer come with freshly
popped popcorn.
The shisha (12LE) at the Rooftop
Garden isn't the best in Heliopolis, but it's still
satisfactory. With no special bells and whistles, the shisha is served in a
regular old shisha pipe with a relatively small tobacco head. The coal man is
attentive, but that didn't make the tobacco taste any better. Again, not the
most incredible shisha in a neighbourhood of fantastic shishas, but it should satisfy
your shisha craving.
The menu mostly consists of sandwiches and main
courses. The beef stroganoff (40LE) isn't traditional stroganoff, but it's delicious
nonetheless. Strips of steak are sautéed with mushrooms and onions in a creamy
tomato sauce, with the option of rice or fries on the side. The fries were
crunchy and a delicious treat when dipped in the Stroganoff sauce.
The seafood risotto (44LE) consists of spicy calamari,
scallops and shrimps on a bed of aromatic red rice. Although it didn't resemble
traditional risotto at all, the seafood was well-cooked and very tasty. It came
with raw onions and greens on the side, which added the right amount of
freshness to the meal.
All in all, the Rooftop Garden
is a great place for Heliopolitans to go as to break out of the routine of the
same old bars and shisha places. The atmosphere is cosy and inviting, and the
service is great. The only slight put-off is the two large flat-screen TVs that
only play Melody Hits; but if you like Arabic and Western pop music, you'll
love it.
There is a 30LE-minimum charge at the Rooftop Garden. A meal for two with a couple of
beers, a glass of wine and a shisha can go for 200LE.

SandroSamy
The place is miserable by all means As per my experience first visited the place was unclean and whenever I ordered beer he brought it without glass and when asked for glass he brought it unclean after I poured the beer in it I found insect inside and asked kindly to change the glass he changed it and when asked to replace my beer as I poured have of it he started to yell and refused and told me it is not his responsiblty and told me that he can close the check if I want to leave and when asked for manager he told me he is the head of the place called Ahmed eid actually he is the only one old and around 80% of the stuff are boys not above 15 years old and waited around 15 mins to receive the check despite my anger temper What a service, what a treatment , what a place ,what an attitude ?
Write your review