Si Omar: Poolside Sohour With Huge Portions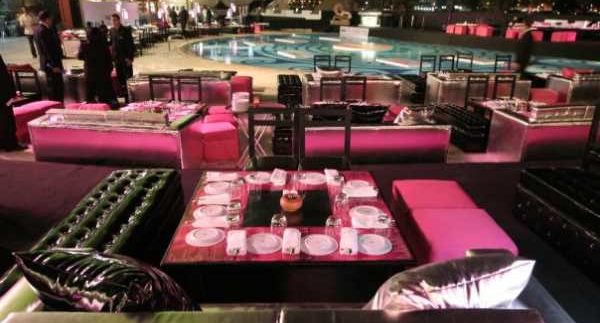 Year after year,
the Grand Hyatt Cairo attracts some of the largest nightly crowds for Nile-side
shisha, sohour and live entertainment. Surrounding the hotel's pool, Si Omar is
Garden City's Ramadan hotspot.
For Sohour, Si
Omar operates an à-la-carte menu with a 130LE-minimum charge. The menu
consists of an extensive hot and cold mezza list, several grilled entrées,
caffeinated beverages and special Ramadan drinks. To simplify things, Si
Omar offers a 90LE-set sohour menu, which with tax and tip included – but not
drinks or shisha – reaches exactly 130LE. This option is a complete
smorgasbord of mezzas and sweets. Within minutes of ordering, a waiter
brings the food. In the blink of an eye, our fairly large table went from empty
to overflowing with generous bowls of hummus, tehina, baba ghanough, fatoush,
metabel, and labnah along with a gigantic basket of delicious and freshly baked
baladi and shami bread. Before we could begin to eat, a second waiter arrived
and managed to find space on the table for portions of foul, falafel,
hard-boiled eggs, kobeba and sambousak. Since we were a party of two,
everything was served in pairs (enough for eight people). For anyone
tired of fighting over the communal tehina; this is your tent!
This overly
ambitious amount of food will surely take you some time to work your way
through, and the incredible breeze that floats from the Nile tends to cool the
food down quickly; so eat the hot mezzas first. This taameya lover hates
to say pass, but there was too much on the table to linger on these heavy and
dry fails. However, the sambousak was a hit: the meat variety's flaky
pastry gives way to sweet, succulent minced meat while the cheese is also
luscious; lightly fried and savoury. Ordinarily not foul's biggest fan,
this reviewer found Si Omar's to be fresh and tasty, prepared Alexandrian-style
with whole beans and chopped vegetables. The baba ghanoug had a pleasing
tanginess and the hummus was thick and creamy.
Overall, the food didn't quite
live up to the festive spirit of Si Omar's atmosphere and is served in such
overwhelming proportions that some may be turned off. This is no nibbler's tent; in fact you may
need to skip fetar in order to finish this meal. When you're convinced that you
can't take another bite, all is cleared away and replaced by a heaping plate of
oriental sweets, which includes balah el sham, basbousa and konafa with chopped
nuts, along with a container of Labanita yoghurt.
Although the food
may not be spectacular, the atmosphere is lovely and the crowd is jovial. Sure, it's overtly decorated in corporate
sponsorship, but a takht band provides live entertainment from a stage across
the pool, several televisions hanging on a wall broadcast hit Ramadan series,
and the Nile view is splendid.
Si Omar's service also works like a
well-oiled machine; professional, expedient and friendly, this level of
expertise allows customers to sit back, relax, and truly enjoy the summer
evening.