Si Omar: Sohour at Fairmont Heliopolis' Ramadan Kheima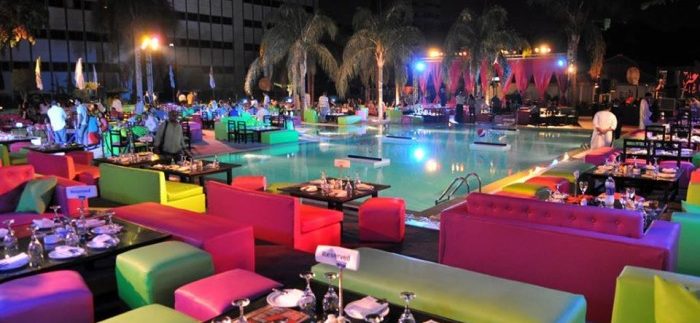 Located at the Fairmont Heliopolis, Si Omar – one of the most popular Ramadan tents in Cairo of the last few years – opened up its doors early this year to accommodate the World Cup. Serving flavourful shishas and housing giant screens, the Ramadan kheima has now gone into full force with both occasions bringing in flocks of hungry and football-loving customers.
With colourful couches and bean bags accompanied by low wooden tables and a friendly atmosphere by the pool, the aesthetics were pretty much set. This leaves more to critique however, as serving time, and accuracy of orders become much bigger factors under the pressure of Ramadan.
As with how these places are usually visited, we were a group of nine that went to catch the football match and then have Sohour. We called in advance for a reservation and were seated promptly upon arrival.
Offering two set menus for Sohour we opted for both. The first came with all the salads, including fattoush, tabboula, hummus, baba ghanoug and yoghurt, plus a main course of shawerma (165 LE).The second features the salads, but with a Mixed Grill instead (225 LE) for the main.
Serving time was quite prompt considering the number of people at the venue. Salads arrive with nice and warm breadbaskets before the main course. The one issue becomes that the tables are rather small for a party of nine.
Usually what happens in Ramadan is restaurants will make very large batches of everything. More often than not, you end up with stale food that tastes like it was reheated. This wasn't the case here. The greens tasted fresh and the bread was freshly baked, leaving us waiting in anticipation of the main courses.
While not exceptional, the Shawerma platter was still juicy and flavourful. Similarly with the Mixed Grill, it was tender but not incredibly tasty. We weren't wowed by the food, but we've had much worse experiences in Ramadan where all the rules and scales change.
Si Omar serve pretty good shisha too – another important part of the Ramadan kheima experience – at (45LE) for the shisha and plastic hose. Watch out while ordering small snacks and drinks, however; with tea goes at 35LE and juice around 30LE and on a late, breezy night , the bill can rack up very quickly without you noticing.
Although quite overpriced, the price ranges are the same you'll find at any other Ramadan tent in the top hotels. For a pleasant night and meal surrounded by friends or family, Si Omar ticks all the boxes.