Speke's Bar: Not So British Pub in Nasr City
Sonesta Hotel Tower & Casino Cairo, 3 El Tayaran St.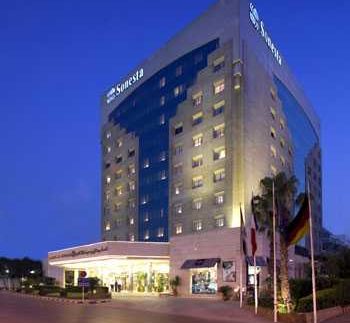 When most of us hear the phrase 'British pub,' we think of casks of beer
(not necessarily cold), jacket potatoes and football on the telly. If these are
the requirements for a British watering hole, Sonesta Hotel's pub Speke's Bar fails
on all counts. That being said, that
doesn't mean there isn't a lot to like about this quaint hotel bar.
Beyond the Sonesta's lobby sits the tiny bar that is decidedly not
British, despite the hotel's attempt to market it as such. A handful of tables
are set in corners of the pub with high-backed green armchairs. Puckered
leather insets on the wall match the furniture and complement the rich tones of
the bar and give Speke's a cosy atmosphere.
The intimate pub is manned by only one bartender, so expect that your
drinks may take a few minutes as he prepares another order or brings dinner to
a table. Long wait aside, the service is
friendly and accommodating. At the time of this review, Speke's did not have
its own dining menu; but food can be ordered from any of the nearby Sonesta
restaurants. This makes Speke's Bar a great choice for groups that can't decide
between sushi and Lebanese fare.
The beverage list at Speke's Bar is long and mostly well-priced. Although
only local beer is available and approaches 30LE a bottle, a surprisingly large
selection of imported liquors includes sake (27.50LE a shot), but unfortunately
the bar does not stock Pimm's, a British staple. Local wines are available by
the glass or bottle and a selection of imported wines are sold by the bottle for
those willing to pay up. Priced at 45LE,
the list of cocktails includes bloody Mary, whiskey sour, mojitos and more.
Though slightly over-shaken, a dry martini is prepared with Finlandia Vodka
and extra dry vermouth. If you like a dirty martini, this isn't your bar;
the olives have been drained of their brine, but our requests for extra olives was
happily accommodated. Although it's not on the drinks list, the bar staff will
happily make you an Irish coffee, which is served with a dollop of fresh
whipped cream atop the mixture of strong filter brew and imported whiskey.
To our surprise, drinks at Speke's Bar are served alongside a bowl of
roasted peanuts as well as a tray of mixed finger food, which includes
marinated black and green olives, pungent white cheese, a creamy though
slightly fibrous spinach dip, and spicy crostini to hold the dips.
Although none of the snacks were anything special, they are included
with the order of a couple cocktails at the bar, which makes Speke's Bar a great
choice for cocktails and snacks in Nasr
City.