Tabasco Bar: An Old Favourite Still in Style
8 Amman Sq. ( close to Shooting Club )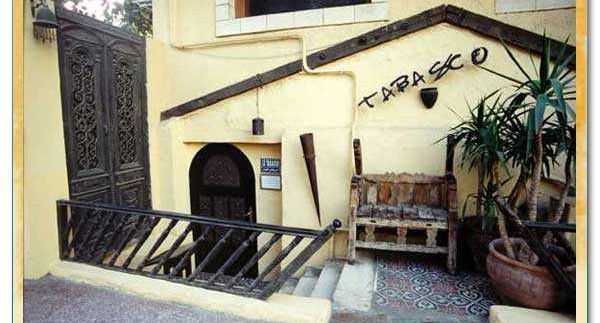 One of the oldest nightspots in the capital, Tabasco is the type of place that never will always be popular. It's like your first love – you'll always remember them fondly, you can't bear to not have them in your life and it's difficult to define the hold they have on you.

As a friend aptly put it, Tabasco is very much like the set of the TV show Cheers; nothing seems to change muc. The staff will always remember you, even if you haven't dropped by in ages, and the menu and décor withstand the test of time. It's your neighbourhood bar that's low key enough to make you comfortable, yet still retains a tinge of high-end quality.

In spite of being one of the first venues to embrace the Oriental-Bedouin style all those years ago, Tabasco's interior still looks fresh and just as authentic as it did back then. The atmosphere may not be as happening as it used to be, but it's still laid-back, relaxed and exudes a warm welcome to whoever walks through the door. Music-wise, you'll be hard pressed to find another location that has as good a collection as Tabasco's, in an eclectic choice that includes grooves from the Buddha Bar and Paris Lounge albums to old funk and house classics. Whatever is playing out through the speakers seems to set the mood perfectly.

Menu-wise, you don't head here expecting Michelin-rated food but you can find some tasty, well-cooked dishes that are gastro-pub standard. A good way to really enjoy the starters is to order several dishes and dig into them tapas-style. Try the calamari, kofta kashashy, chicken teriyaki and the cheese-and-tomato dip that comes with a basket of toasted baladi bread. If you'd rather go straight for the entrees, two of the best dishes aren't even included in the menu but are still all-time favourites: the chicken with lemon sauce and the pan-fried sliced beef fillet with rosemary. And if there's still enough room for dessert, the chocolate soufflé is recommended.

In regards to the devil's potions, the concept of cocktails never made it past the entrance, so don't ask for a Cosmo or an Appletini. At best you might get Vodka with orange juice, a very weak Mojito or a Rum and Coke, so just stick to the basics – your wines, beers and spirits. Remember, Tabasco isn't about being 'in' or the hottest place in town; it's simply a laid-back, local bar that's still a firm favourite with the thirty-something crowd. Head there for an early dinner and you'll have the whole place to yourself – the perfect setting for a date or a business meal.

Price-wise, it's not as moderate as it should be. A glass of local Vino Blanco comes in around 40LE while the starters range from 25LE to 45LE. Another worrying feature has been the introduction of a TV set showing all the latest sporting events, which begs the question: why now after all these years? But, having said all that, I still make it a point to go to Tabasco at least once a month; I haven't fallen out of love with it yet.