The Bar: Expensive Drinks at the Four Seasons Nile Plaza
Four Seasons Hotel Cairo at Nile Plaza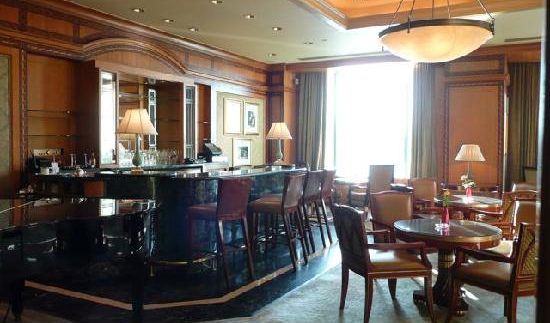 There comes a time in your life when you
decide to live dangerously for one night, and in Cairo, there are plenty of
ways to do just that. Eager to find the most expensive drinks in
Cairo, we opted for the Bar at the Four Seasons Hotel Cairo at Nile Plaza in Garden City. The
Four Seasons is synonymous with upscale luxury and way-out-of-our-budget
prices; so the Bar was an easy choice for a quiet, expensive drink.
Located between Zitouni and Bella on the
third floor, the bar talks up a dimly lit corner of the hotel with a killer Nile-front view. Although this reviewer visited on an early evening, the bar filled
up pretty quickly and the comfortable Louis XIV chairs and oak tables facing
the Nile were always occupied. The plush carpeting and floral art deco lighting
make an intimate, refined atmosphere, while a pianist plays
away through the evenings, adding to the elegant but still hotel-like
atmosphere.
The bar's menu is extensive and features
black-and-white portraits of Samia Gamal and other
Egyptian icons next to the drinks list. Why
these portraits were chosen remains unclear; neither the menu nor the interior decor
is particularly Egyptian-centric. Nonetheless, we were happy to locate a few
pricey drinks, including the sake wine at 380LE per glass, champagne cocktails
at 240LE per glass, and a glass of Johnny Walker Blue Label blend for 400LE.
Even
cocktail shots are exaggeratedly expensive at 90LE. This reviewer tried the
Tahrir Square shot (90LE), which consisted of Kahlua, Bailey's Irish Cream and
Passion. The shot was served in a paltry portion for such a price, and was far
too thick and sweet for our liking. You can also opt for a martini (80LE)
including the intriguing cigar lovers martini. Our order of spiced watermelon
martini, which is served with chilli vodka, was promptly returned to the bar as
it lacked any watermelon flavour and was overpowered by the face-punch of the
chilli.
Service at the Bar was great, as is
expected from a five-star luxury hotel. Our waiter swiftly exchanged our drink
without any argument, and apologised profusely when our order of
Absolute Vodka (75LE) with cranberry juice (24LE) came with bland and sugary
cranberry syrup instead. Additionally, the fact that we were charged for the
cocktail's two ingredients irked us.
After munching on their complimentary bowls
of pickled olives and nuts, we ordered two dishes off their snack menu for
150LE. Our order of spicy shrimp fritters arrived mild as per our request. The breaded
and fried shrimp balls were served on a sea of lettuce with barely a drizzle of
an indiscernible sauce. Our companion's order of foie gras was served on
crunchy toast with a side of jam, but its fried texture overpowered its
rich flavour, killing the foie gras experience.

Our companion's order of a glass of merlot
wine was sent back to the bar, as the wine tasted like it had been open for a
while. Our waiter acknowledged this and served a freshly opened glass of Terre
De Soleil Merlot wine (120LE) instead. Our glasses of 12-year Glenfiddich single malt scotch whiskey (300LE) and Chivas Regal 18-year blend (150LE) were accompanied by
ice pitchers, and our waiter complied with our request to match the servings,
as one was less generous than the other.
Overall, this was an enjoyable though
excruciatingly expensive night out, as we relaxed by the Nile view, took in the
piano music and fantasized about the cigar collection (a Coheba will cost you
210LE while a Montechristo will set you back 180LE).