The Cellar: Old-School Pub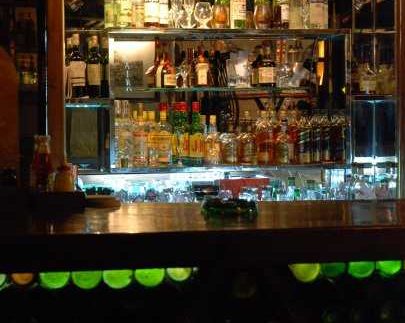 As a Cairo
pub/restaurant that is an institution among its patrons, The Cellar is probably
one of the oldest running establishments in town. Nestled in the basement of
the President Hotel in Zamalek, you cannot help but feel that you are
descending into a subterranean cavern as you walk down the steps to The Cellar.

Once inside, you are greeted by several high tables, a bar and several long rectangular
dining tables that are situated further into the 'cavern'. The Cellar is dark
(obviously, it quite literally is a cellar), with dark wood tables
and wall panels. A plethora of different liquor bottles in a glass
display case on the wall add to the effect– although we're not sure what the
exact desired is, but there is definitely an effect.
The Cellar is one of those Cairene pubs where you get a completely
different level of service if you're a regular. It doesn't take much to become
a regular, though; just a few visits and a couple of generous tips should do
the trick and cause the waiters to greet you cheerily by your name upon
arrival. Even if one isn't a regular, the service is proper enough.
The food is pretty much what you would expect at an 'Egyptian' pub. The mezzas (between 15LE and 35LE) are
not to be missed. Particularly recommended are the white cheese dip, the
oriental sausages (sojo'), and
the fried calamari. As a main course, the
cheeseburger (around 25LE) is definitely recommended, although if you are
expecting a traditional cheeseburger in a bun you will be disappointed; because The Cellar's cheeseburger is no more than its name implies: a burger patty with
a slice of melted cheese on top (sans bun). The burger itself is succulent and you can tell that the ground beef
used is of superb quality.
The drinks are pretty much standard pub fare for Cairo. A wide variety of local beers (around 22LE
for a Stella) and wines is served, along with imported hard liquors. A common practice among the regulars is to
bring in their own bottles of liquor and pay bouchon charges (100LE for regular bottles of wine and
spirits, 120LE for special labels, such as Black Label or Johnny Walker),
which is definitely the more economic option if you're going to consume more
than a drink or two.
The Cellar is definitely a great place to go to for a drink or two, some
conversation and laughs, and some pub fare. In a nightlife scene where the sky seems to be the limit when it comes
to food and drink prices, the Cellar is still quite affordable.