The Garden: Chic, Bustling Bar in Korba, Heliopolis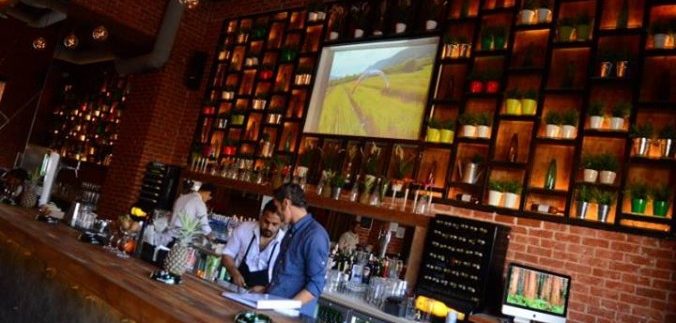 While the number of bars and clubs in Cairo is always on the increase, the nightlife scene in the capital is somewhat cliquey congregations, some with expensive minimums and tough door policies.
Not blessed with a bar scene to speak of, the Korba district of Heliopolis has recently welcomed the Garden.
Having suffered at the wrath of Facebook-users of Cairo for an alleged screening process that pries into Facebook profiles, we were glad our photos were up to par, managing to secure our group a table mid-week. Situated at the end of a small alley, right next to the Coffeeshop Company, the Garden is spread over a large outdoor patio and an indoor – but open fronted – bar area.
Complete with bare-brick walls, hanging Edison light bulbs, copious numbers of potted plants and charming bright red shutters on the exterior windows of the building above, the Garden has been meticulously designed to be chic, contemporary and stylish for its mixed-bag of fashionable clientele. With DJ Hishram Zahran on the decks at the time of our visit, the place was filled with chilled out dance beats, at a decent level so that conversation was still a possibility.
Despite being mid-week, the bar was packed, with most of the crowd standing inches away from one another and the staff running around like headless chickens. Choosing from a fully stocked bar and a long list of cocktails, we ordered several Smirnoff vodka (70LE) and Red Bulls (35LE), as well as a glass of chilled, Omar Khayyam white wine (50LE). We also took our own bottle (250LE for bouchon), and were afforded ice buckets to keep it cool.
Whilst we could appreciate the place was busy, waiting around 45 minutes – and having to nag constantly for our drinks every time – seemed a little ridiculous and the same gruelling process applied when ordering the check.
From a full menu of international appetisers, main meals and desserts, we opted for an Oriental sampler as a sharing platter (80LE). Also taking forever to arrive, and served cold, the best thing about the herby sogo', crisp cheese and meat sambousak, and rich liver, was the attractive presentation on a wooden chopping board. We also spotted a number of impressive-looking, thick hamburgers floating around, whilst hearing complaints regarding long waiting times from a large number of diners.
While the Garden's energy is buzzing, and the aesthetics are undoubtedly fabulous, the service most certainly is not – yet.