The Lemon Tree & Co: Laidback Nile-Side Bar in Zamalek
Imperial Boat, Saray El Gezirah St.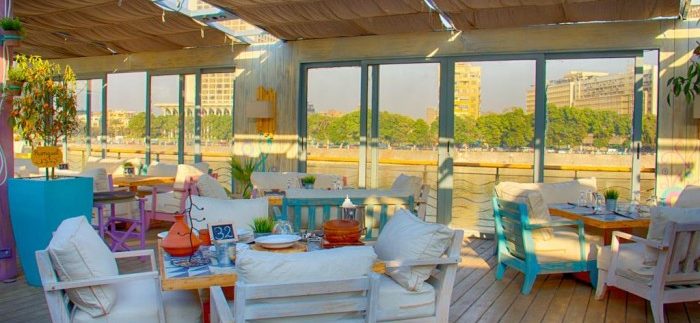 Anytime a new bar in Cairo emerges, there's a palpable buzz that spreads like wildfire amongst the capital's nightlife lovers – but not many have quite matched that of the Lemon Tree & Co. Located on the Imperial Boat in Zamalek, the Nile-side venue aims to fuse a laid-back, Mediterranean summer vibe, with an air of sophistication.
Situated on the top deck, the decor is colourful in every sense, but tasteful, with sorbet-yellow shades, copious amounts of greenery and comfortable seating arrangements. Walking in on a week night, we were surprised to be told there were no available tables, despite several remaining empty for the duration of our visit.
Offered a space perched on the end of the bar, we were largely ignored by the large contingent of staff in the dining area, often resorting to shouting and waving to grab their attention.
From the vast drinks menu, we ordered two alcoholic cocktails; one Lemon Tree Cocktail (65LE) and an Apple Cinnamon Martini (65LE). Served quickly and expertly mixed, the Lemon Tree Cocktail was a bitter-sweet concoction, while our favourite, the Apple Cinnamon Martini, was fabulously sweet and fruity.
The menu boasts a decent selection Mediterranean cuisine. Split into clear sections, the menu even offers additional 'first courses', served between appetisers and mains, of linguine and pasta dishes.
For our appetisers, we opted for the Brie and Fig Crostini (38LE), as well as the Shrimp and Pil Pil (60LE). Sounding delicious on paper, we were disappointed that the creamy brie slices were placed on pieces of dry toast with very slender slithers of fig. On the other hand, the fresh, juicy shrimp pieces were unusually served in a frying pan, marinated in a flavourful garlic and herb sauce.
Immediately after we set down our forks, our main courses of cranberry chicken roulade (92LE) and Moroccan veal (88LE) were served, without the gesture of clean cutlery. However, the Moroccan veal impressively arrived in a terracotta tagine with a tall lid; a bed of fluffy couscous surrounded a pool of rich gravy, infused with pieces of tangy lemon, soft onions and sweet apricot chunks. The veal cubes were chopped a little on the small side and, while we found one piece to be purely gristle, the rest were perfectly tender. In our second dish, two generously-sized chicken breasts were stuffed with a meagre amount of cranberries, but complimented by a fruity pink sauce and a side of soft peppers.
For dessert, we opted for their signature Lemon Cheesecake (44LE), which transpired to be a thick, creamy slice, with a sugary biscuit base. Although it certainly hit the spot, the lemon flavour was almost nonexistent.
Almost ruined by the sloppy service, the ambience and Nile view at the Lemon Tree & Co. is it's saving grace – along with a well-thought out menu and excellent cocktails.