The Tap: Refreshingly Unpretentious Maadi Bar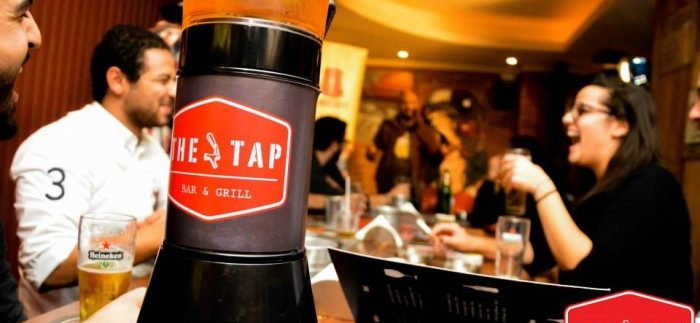 Residents of Maadi are very proud – and a little protective – of their neighbourhood. Having possibly taken the lead ahead of Zamalek as Cairo's epicentre of cafes and restaurants, there is one field that it has never really excelled at: nightlife.
This year alone, two bars – Tipsy Bar & Lounge and Syren Bar – opened in the same spot to much fanfare, only to close with a whimper.
Equal, if not more, fanfare accompanied the opening of the Tap, but things seem to be running on a much more even keel thus far. In the run-up to its opening, the unrelenting power of social media sold it as a British-influenced bar – not quite a pub, but certainly borrowing many of its elements.
Said elements aren't quite as explicit once you're settled in the venue. Nonetheless, it balances enough visual quirks with a self-assured unfussiness to keep the atmosphere interesting. Red bricking is the most notable decorative feature, but its overall welcoming simplicity doesn't render the distinct decor jarring in anyway.
What is slightly jarring, however, is the space's corridor layout which, during busier nights (especially those that attract patrons of the clubbing variety), can be hard to navigate. In addition, the bar-space is rather small and, if you haven't booked a table that affords you table-service, you may find yourself carefully squeezing your arm through a line of seated people to try and catch the staff's attention. In fairness, however, said staff are attentive and pleasantly indiscriminate in service.
Drinks (50LE-70LE) are, generally, well made and the staff aren't shy, but in fact rather generous, when it comes to making cocktails, never skimping on the alcohol; try the Banana Daquiri or the Amaretto Sour – you won't be disappointed.
The owners of the Tap seemed to have deliberately downplayed the dining aspect, despite offering an eclectic menu of bar-friendly snacks and full-blown mains – and it's a clever move that has saved the Tap from falling into the same pitfalls as other pseudo-gastropubs in Cairo that have wrongly assumed that the city's (overly) discerning nightlife collective can digest the concept. This, however, bares no reflection on the quality of the food itself; buckets of BBQ Buffalo Wings (60LE) are excellently made (and come with customary disposable gloves) and dishes like the BBQ Ribs (110LE) are executed to near perfection. The meat is of noticeably good quality and is cooked to a perfect tenderness and flavour, thanks to an excellent hickory barbeque sauce.
Unlike its predecessors, the Tap has laid a foundation that will almost certainly see it be a major player on the nightlife scene for a long time to come – knock on wood – and already has plans to open another branch in the SODIC's West Town Hub, which is still in a very early construction period. The biggest reason for this is that the owners gave themselves enough time to find their footing, refraining from launching into a stream of needlessly complicated concepts and gimmicks. It's not the F1 simulator, the arcade system or even the three-litre personal beer-tap that makes the Tap stand out – these are all sidenotes; its real quality is in its brave simplicity. Essentially, the Tap speaks for itself – and for bar that that has been birthed from the basics of a British pub, it speaks rather well.