The Windsor Bar: Relaxed Elegance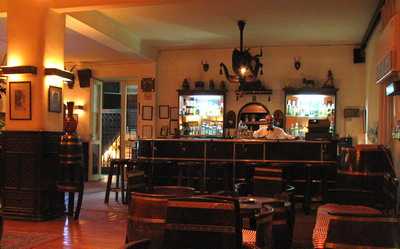 This former
officer's club at the Windsor Hotel in Downtown Cairo is one of the last remnants of the British
colonial era. The bar has persevered well through the years and is a comfortable
location for a quiet evening reflecting over a laptop or enjoying a few rounds
with some friends.
If boisterous revelling
isn't your thing, the Windsor
offers a smart setting that's become quite trendy with hip young expats and
Egyptians alike, mixing with the similarly intrigued older set that has worn
the place in.
According to
their website, the Windsor Hotel was built at the turn of the 20th century as
the Egyptian royal family's bathhouse. The hotel's two-part lounge and barrel
bar (known to all as the Windsor Bar) are the definite highlight. Striped and cushioned
armchairs and sofas arranged around grand coffee tables offer varied seating
throughout the room. Gazelle antlers, soft lampshade chandeliers, the
deep wooden bar and wainscot panelling give a subdued warmth worthy of your living room
or a hunter's lodge.
The place does
get quite hot and stuffy, despite the ventilation of large arched windows and
apparent air conditioning, but our visit fell during a heat-wave that possibly
caught them off guard.
The drink
selection is extensive and includes local and imported beers at 14LE for a
Stella, and 22LE for a Heineken. Local wines are roughly 35LE a glass,
cocktails range from 32LE to 50LE, and they also have a wide selection of
various imported spirits. The Windsor Bar is also one of the first bars to have
served Stolichnaya (35LE a glass) in Egypt .
Food-wise, you can
order off the hotel restaurant's menu, which offers a selection of sandwiches,
pastas, pizzas, entrées, Egyptian specialties, pastries and desserts.
The Windsor Bar's
enduring beauty is its ignorance of what's in; instead, it simply is. If you're searching for a low-key escape from
the hip crowd at the 'in' nightspots; you may just find what you're looking for
up the hotel's classic stairway.