The Zamalek Residence Hotel: Summery Sohour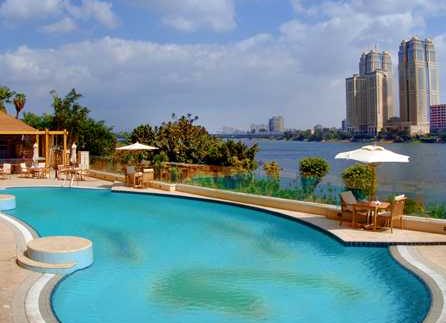 Once dominated by summer tourists from the Gulf, the newly renovated
Safir Hotel has come into its own, moving beyond another Cairo hotel to a Zamalek
evening hotspot. Its location on the Nile and its understated elegance make it
an approachable yet special place to spend your Ramadan nights.
Now known as the Zamalek Residence Hotel, and recently taken over by
Hilton, its stately five star, lobby and international clientele suggest exorbitant
restaurant prices and inaccessible venues. Surprisingly, this is not the case
at all; the hotel staff are friendly and welcoming, and fetar and sohour
options are more affordable than some average Cairo restaurants.
Fetar at the hotel is served in Palm's Coffee Shop. Don't be fooled by
the name; this coffee shop is actually a bright, contemporary restaurant with
gourmet food and slick service on offer. An open buffet for 155LE is offered for
fetar, with gourmet offerings of Egyptian, oriental and international cuisine
to tempt a diverse clientele.
Open buffets at fetar are normally a nightmare with huge queues of
people loading up multiple plates and leaving nothing for unfortunate
stragglers. Fortunately, the restaurant's small size and the hotel's
low-profile status make for a relaxed sunset meal rather than a fight for
survival.
However, the real gem at the hotel is the poolside sohour, served every
evening from 11PM onwards. Nothing says a summer Ramadan like an evening by the
pool. Choose from two set menus priced at 75LE and 100LE and featuring sohour
staples like omelettes and foul, in addition to a selection of cold Lebanese
mezzas, Ramadan juices and oriental desserts.
The 100LE-set menu provides enough food to satisfy two people until fetar
the following day: an army of small dishes of hummus, baba ghanough, yogurt and
taboulah served with bread would be enough, but then they are mercilessly
followed by a huge omelette, foul, fruit salad and a dessert plate loaded with
basbousa, konafa and atayef.
The salads are average and the bread is nothing special, as is so often
the case with 'Lebanese' appetisers in Egypt. The Egyptian elements of the menu
were much more delicious: a perfectly cooked omelette and well-spiced foul were
winners, as were all of the desserts, especially the soft, sweet basbousa. The
service is noticeably lacking; waiters lagged behind on our orders and had to
be prompted once or twice, but the location and scenic Nile-side setting
generates enough good PR to keep us coming back.
Arrive at 11PM on the dot to make the most of sohour at the Zamalek Nile
Residence. The more time you give yourself to digest and relax by the pool; the
better your experience.