Tipsy Bar & Lounge: Maadi Nightlife Expands with Gaudy New Bar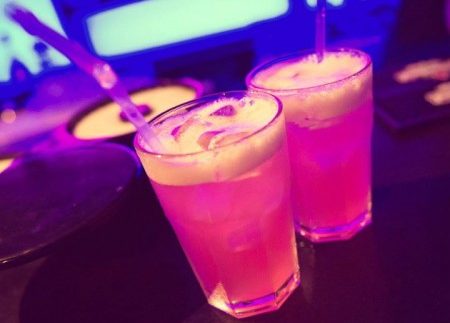 Though there are plenty of bars and clubs in Cairo – mostly concentrated in the centre of the city – the number of those in Maadi are minimal to none. Naturally, then, a new player is always greeted heartily. Located where Boss Bar used to be, Tipsy Bar & Lounge is the newest nightspot to challenge the more established bars across Cairo.
The problem is, as it has always been, that nightlife venues in Maadi just never seem to pick up steam. Many an establishment have risen and fallen because the party-goers of the city just don't come to Maadi that often. Their formulas have worked elsewhere in Cairo, be it the weekly event schedule, or the themed bar, but it just doesn't work in Maadi.
Our theory is they try to be too much at once.
On a Monday night with no scheduled event, there was practically no one in Tipsy but the staff. Remember; they're both a bar and a lounge, supposedly. First, you walk through the familiar black padded doors into a dark hallway and emerge in an equally dark room with bright blue neon lights on your right, mirrors on your left and pink neon lights from the back wall behind the bar.
The first thing you'll think is, "Wow, this is tough on the eyes."
So, we sat on the couches in the left corner and found the menus on the table in front of us. All the local beers are available for 30LE, while local wine ranges in price between 90LE and 230LE.
Of course, spirits, shots, and cocktail jugs are also offered, as well as soft drinks and hot drinks.
We opted for a Bloody Mary (65LE) and a Sex on the Beach (60 LE), as well as a Shrimp Konafa (59.50LE) appetiser. Prepared with vodka, tomato juice, Worcestershire sauce and pepper, the Bloody Mary fell rather short. We won't be picky about not using a high ball glass or any sort of garnish, be it celery or lemon wedges, but it was just missing its essence. Whether it was the overly sweet packaged tomato juice, or just not enough pepper and no salt or Tabasco sauce, it just wasn't what a Bloody Mary should be.
The Sex on the Beach – made with vodka, peach schnapps, orange and cranberry juice – on the other hand, was much fruitier; despite the presentation being wrong again, the ingredients were spot on. The Shrimp Konafa, although sizeable in portion, tasted stale and defrosted.
The problem with Tipsy, as mentioned earlier, is that it's trying to be too much at once. On a quiet night, the stark contrast between the dark and the bright neon lights is just too much for a lounge setting, while on a more lively night there's just so little room; if you're there to dance its awkward, and if you're there to have a couple of drinks on a comfortable couch it's far too gaudy.
But who knows; maybe they'll prove us wrong – and we hope they do. Maadi needs this.