VENT: No-Nonsense Bar & Art Space in Downtown Cairo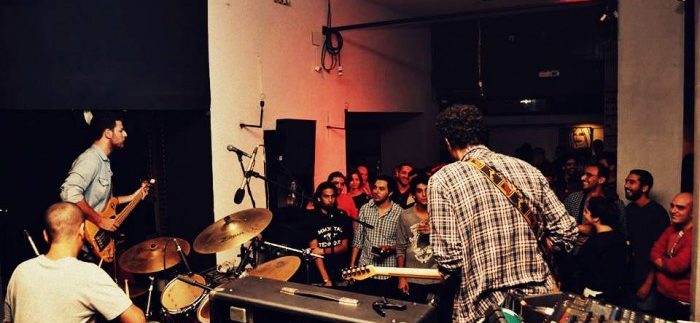 Located on Qasr El Nil Street, right next to Qasr El Nil Theatre in Downtown Cairo, VENT offers local culture enthusiasts an alternative to the better established bars and clubs in Cairo by labelling itself as both a bar and cultural space.
Taking over the venue that was once Arabesque, VENT is relatively easy to spot, with the sign of the previous bar remaining in place.
Offering a variety of culture events, from live music, film screenings, to site-specific plays, an entrance fee of 50LE is required on all nights except on Thursday when the fee gets bumped up to 150LE. Having recently celebrated a six-month anniversary, VENT is everything an 'underground' space should be.
The interior is characterised by lighting choice, utilising a stark contrast between the dark and intense lights during upbeat DJ performances, and more mellow and relaxing lighting during live musician performances. Contrasting the poster-decorated walls are old tile clad floors, emblematic of Downtown's rich heritage.
A spacious bar takes up most of the facing wall once you enter, offering a range of drinks, with a Heineken going for 30LE and soft drinks for 15LE. There is also a decent-sized menu that includes a choice of mezza platters (40LE-65LE), nachos (30LE), sandwiches (30LE-50LE) and pastas (45LE).
We opted for a Club Sandwich (40LE) which was thick and juicy, stacked with fresh ingredients and served with deliciously thick-cut French fries.
Their nachos are a good on-the-go choice, though they could do with more generous dressings as we found the dish to be slightly dry as opposed to gooey and luscious.
However, VENT is not particularly about the food, but much rather about the show. A monthly schedule provides information on upcoming events and while VENT promises a range of cultural doings, music has for the most part taken over.
With live musicians such as PanSTARSS, Aya Metwalli and the Invisible Hands taking to the stage, as have quite a few local and international DJs, there have also been the more obscure of music nights such as the one featuring Maxime Denuc; a sound producer from France.
Though the music line-ups and their variety have given music buffs a reason to leave their house in search of new sounds, VENT's hosting of non-music events is somewhat lacking – a stark reality of Cairo's cultural landscape.
All in all, Vent has come as an uplifting change from the monotonous, musically bland nightlife scene in Cairo, securing a safe haven for those uninterested in pretentious attitudes, repetitive crowds and the 'thud, thud, thud' atmosphere of the city's most frequented bars.