Wahawi Ramadan Lounge: Chilled Ramadan Sohour by the Nile in Zamalek
Le Pacha 1901, Saray El Gezirah St.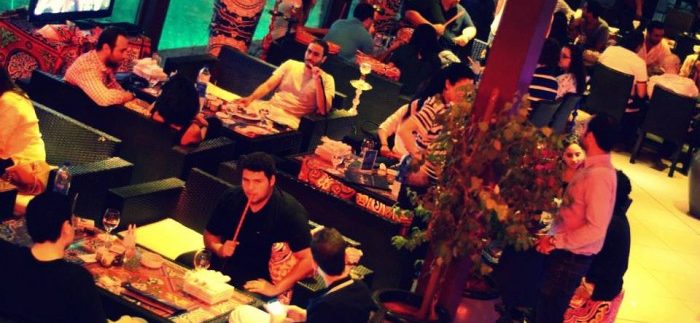 Cairo isn't a city that takes special occasions lightly and there are few bigger occasions in Egypt than Ramadan. But despite the hullabaloo of it all, Wahawi Ramadan Lounge brings a much-needed serenity to proceedings.
Following its success last year, the Ramadan kheima – which sits pretty along the Nile on the breezy rooftop of Le Pacha 1901 in Zamalek – has once again emerged as a perfect alternative to the big, brash rationales of the traditional Ramadan tents.
Attracting a much younger crowd than many of the other Ramadan tents around the city, Wahawi doesn't rely on the gimmickry of nostalgia and the increasingly elusive pursuit of a 'quintessential Ramadan experience'.
Instead, Wahawi keeps things unfussy and laidback – because there's nothing worse than being force-fed the sounds of an unenthusiastic takht group, as can be found at this time of the year across the city.
The setup and decor plays as big a part as any other element; use of the traditional khayameya print is kept to tasteful touches here and there, the music is subtle and the dimmed lighting is perfect – it really is the little things that count.
Similarly to last year's setup, tables with couches for large parties line the edges of the space, with small, more intimate tables taking up the centre. Each seating arrangement is appropriately positioned to give patrons a pleasing type of seclusion and cosiness without sacrificing its overall amiable hustle.
Each of the larger tables is afforded a flat screen TV – with World Cup matches being shown – and a Playstation console, as well as a range of different board and card games.
In terms of the food, frequenters of Le Pacha will be pleased to find the venue's usual selection of dishes with the addition of a few extras across both Egyptian and Lebanese cuisines.
On a breezy evening, our party of four headed to Wahawi and we left with bulging bellies and pleased palates. Of the cold mezze options, the cheese with zaatar (24LE) was excellent, while the cheese-stuffed safayeh (30.90LE) – a Lebanese version of dumplings – were equally as delicious.
Beyond the picking-dishes, if you will, there are also full blown meals more suitable for fetar – which Wahawi also offers. And, of course, what Ramadan kheima would be complete without shisha, which is served and attended to alertly by staff.
Yes, Ramadan is big, loud and gaudy; but Wahawi streamlines the sohour experience, making it a great place to unwind.