360 Revolving Restaurant at the Cairo Tower: Panorama of Tourist Attraction
The Cairo Tower, El Hadeka El Zahreya St.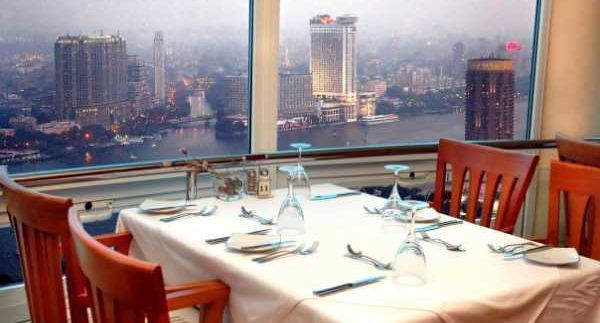 While revolving restaurants are
hardly the rage in most cities, Cairo
boasts not one, but two in its dining repertoire. The Revolving Restaurant at
the Grand Hyatt hotel has long been a staple of high-class, high-priced panorama. In this review, however, we shine the
spotlight on the lesser known Revolving Restaurant at the ubiquitous Cairo tower.
Located in Zamalek, the tower rises
above the city, and is illuminated at night by sparkling lights. The
appeal of the venue is that you can take in the view of the sprawling Cairo skyline far above
the pollution and noise, while enjoying a quiet dinner aloft.
With its recent renovation, the
eatery is ideal for taking in Cairo
from above, where you will witness a true 360 degree view as the floor slowly
revolves; by the time dessert is served, you should have travelled full orbit. This
is the perfect venue for visitors to the Capital, but keep in mind that you are
paying for the view and not the fine cuisine – if high quality ingredients and
impeccable gastronomy are what you're looking for, note that this is no
delicate gourmet haven, although the high prices give an impression that it is otherwise.
We found the menu a little too
standard, with little more than pasta, chicken and beef fillet and a few
grilled options on offer. The salads are fair, and dishes start at around 70LE
for a simple main course and go up to 180LE. The grilled chicken salad is
tasty, the white fish, prawns and calamari seafood grill is passable and the
pastas are nothing special.
The service is excellent, although
the dimensions of the restaurant itself are a bit worrying; tables are
awkwardly spaced, since they occupy a sliver of floor space that rings the tower.
Crammed with tables, the Revolving Restaurant is not ideal for large parties as
it can get severely cramped. The long table settings also make it difficult to
communicate with fellow diners the length of the table.
Egyptians pay relatively nothing to
ascend the tower, while foreigners pay 70LE before even entering the restaurant
where the minimum charge is 100LE, which covers very little on the menu. Overall
it is worth visiting if you'd like to rise above the city hubbub for an
afternoon, and are willing to shell out a hefty price for some peace and quiet.