3am 7awawshy: Quaint Hawawshy Restaurant in Zamalek
23 Shagret El Dor St., (In front of Musical Institute)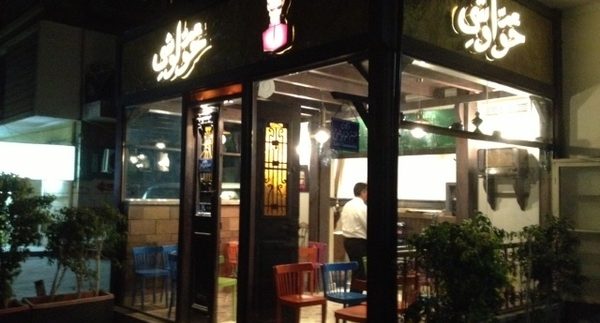 Almost overshadowed by the likes of
Lido
on the narrow Shagaret El Dor Street, 3am 7awawshy sits back from the road and relies on its glass walls and colourful indoor furniture to reel in passersby.
The small restaurant combines rustic, dark wood items and a traditional stone floor with retro, funky furniture; the bright green, orange, blue and pink chairs reflect the colours in their logo. Although the eat-in space is fairly small, it possesses an air of charm, resembling a conservatory but with large, carved, wooden double doors. The only thing that quickly concerned us were the modern, tiny, silver tables which seemed barely big enough to fit two drinks, let alone two meals.
We peered up at the chalk board menu above the counter and soon realised the menu is limited to beef or chicken hawawshy (22.5LE-28.5LE), mini hawawshy (12LE-14LE), beef kofta (23.5LE) and a small selection of sides and deserts. They also sell a soup of the day (16LE)..
Hoping for some delectable, traditional Egyptian food, we ordered one Beef Hawawshy with Romy cheese (28.5LE) and we turned a Chicken Hawawshy (22.5LE) into combo meal with a side of homemade potato crisps and a soft drink for an extra 8LE (6LE for the minis). Sticking to classic dishes, we also ordered an Om Ali (17LE) for dessert.
The drinks menu is very vague when it comes to sodas so we used our common sense and ordered a diet coke which came in one of those cute, vintage glass bottles. We weren't offered a glass or a straw but we assume, had we asked, they would have provided either. 3am 7awawshy also serve a simple selection of hot drinks (6LE-9LE) and, more unusually, sugar cane (4LE).
The food arrived quickly and arrived on a big, round golden tray which transformed the worryingly undersized table into a comfortable one, fitting our sandwiches perfectly. Instead of plates, the hawawshy is served on wooden blocks, covered in illustrated paper conveying stories of famous actors eating hawawshy which we thought was a notable attention to detail. Both dishes were served with a tub of tehina and a small bowl of pickles.
No cutlery was offered so we proceeded to tuck in with our hands – we spotted a gold sink resembling the form of an Edra in the corner, so we weren't too worried about the mess.
Even if you're not a regular eater of hawawshy, you'll be able to tell straight away that these are pretty awesome, especially as it's difficult to find good quality hawawshy around Cairo. The chicken was simple, with pieces of chilli giving it a slightly spicy edge. The homemade crisps were even better, even though they were a tiny bit soggy from the oil. Feeling happy, but not overly excited about the chicken hawawshy, we moved onto the beef with romy cheese. The beef was juicy, the bread was golden and crispy and the cheese was satisfyingly salty – this was by far our favourite and we devoured it in next to no time.
Unfortunately, the Om Ali came at the same time as our meal but, when we got round to it, it was still hot, and absolutely delicious. Under the thin layer of milky skin, the ramekin dish was filled with saturated bread, sweet raisins, nuts and we even tasted some coconut in there – definitely something to add to our own Om Ali recipes.
A couple of other waiting faux pas caused us to draw
the conclusion that perhaps 3am 7awawshy are little confused about what they are
trying to be. The smartly dressed waiter and brilliantly presented
food would suggest a restaurant but the lack of coordination, cutlery
and glasses lends itself to more of a takeaway or fast food place –
which essentially, it is.
However, these things didn't take away from our dining experience – it's very early days and even so, we send our sincerest compliments to the chef, and their interior designer for creating such a quaint and delightful hawawshy place.