Osteria: Reasonably Priced International Menu in Heliopolis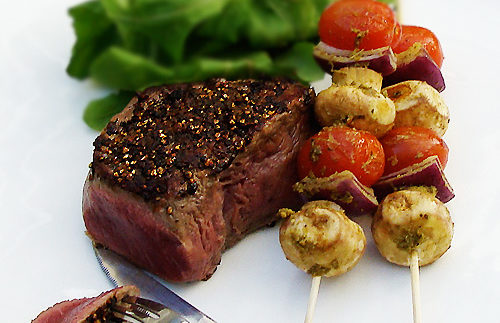 Located on a narrow, hidden road in Sheraton, Heliopolis, Osteria might not be the easiest restaurant to find, especially if you're not from the area. After getting lost and calling the restaurant for directions, we eventually found our way and were greeted warmly by the waiters who walked us to our seats and passed us our menus.
We found a wide range of options to choose from including salads (26LE-38LE) appetisers (16-53LE) steak (58LE-80LE) seafood (40LE-90LE) chicken (40LE-62LE) and fajitas (46LE-74LE). In true Egyptian chain restaurant style, all main courses are served with two sides of your choosing; sautéed vegetables, French fries or pasta.
We opted for Chicken Cordon Bleu with French fries and penne pasta with white sauce (47 LE) and Country Fried Shrimp, but were delivered the devastating news that the kitchen was out of shrimp and calamari. Instead, we chose a 220g beef fillet with mushroom sauce, sautéed vegetables and penne pasta with white sauce (58 LE). We also opted for an Osteria Appetiser Sampler (40LE) which was made up of four spicy chicken strips, mozzarella sticks, onion rings and Doritos covered in herbs and mozzarella cheese. The appetiser sampler comes with three different dips and was served hot and, remarkable, within five minutes of ordering it.
Equally as impressive, the main courses took around twenty-five minutes to emerge from the kitchen. Unfortunately, however, the Cordon Bleu was dry and a far cry from the moist chicken cutlet one would expect. In addition, there was a distinct, almost baffling, lack of cheese and the promised smoke beef. Being the positive Petes we are, we were able to at least enjoy the well made and seasoned fries. Already disappointed by the aforementioned shortage of shrimp and calamari, the meal's saving grace came via the substitute dish of beef fillet. Well cooked and at the very reasonable price of 58LE, it was enjoyable without being spectacular – a slab of beef and no more.
Our check came out to 160 LE which is very reasonable for a dinner for two. The service was both great and quick and the waiters always had a smile on – shame about the execution of the food.