A Bite to Go: New Simple Sandwich Shop in Mohandiseen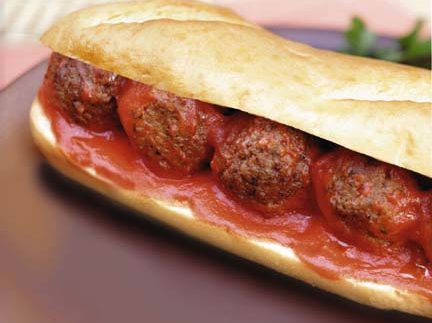 It's no real surprise that in a city that
moves at the chaotic speed that Cairo does, the sandwich is probably the most
utilised culinary option for Cairenes. Tragically lost amongst the sea of flashing
shopfronts on Gameat El Dowal Street in Mohandiseen, A Bite to Go takes the
simplicity of a sandwich to heart and lives up to its name in delivering quick and simple sandwiches.
The place has the feel of a basement to it.
You step down through the entrance, and the seating by the window is almost at
eye level with the knees of passersby. The area is dimly lit, quiet and without
music. All that can be heard is a slight bustle coming from the kitchen, which
we assume is at the other end of the dark corridor which the counter gates.
A Bite to Go's menu is made up of sandwiches and
breakfast items including teas (5LE), coffees (10LE) and omelette
sandwiches (10LE) amongst other things. At the
low end of the price scale, we tried the 8LE Alexandrian liver sandwich and
were more than happy with the order. Unlike most liver sandwiches, the pieces
of meat wet large, tender and devoid of any unnecessary oil. Prompted by the
staff to choose how spicy we wanted the sandwich to be, we requested medium,
but were subsequently disappointed with the lack of any zing.
We tested the restaurant's chicken-cooking
skills with the fajita (14LE) and shish tawouk (12LE) sandwiches. Although the
chicken pieces were cut differently – chunks in the shish tawouk and thick
strips in the fajita – we couldn't help but feel that they tasted identical,
albeit the big pieces of green pepper in the shish tawouk. Nevertheless, the
chicken was as moist and tender as you can get, although it lacked seasoning.
The enigma of the menu comes in the form of
the Daoud Basha (13LE); a version of meatballs and tomato sauce. Fearing that
this would be nothing but kofta balls, we decide to give A Bite to Go the
benefit of the doubt, and were rewarded for our faith. The Daoud Basha is no
meatball sub, but the meatballs were tender; a result of not being cooked to
death as minced meat tends to be in so many restaurants around Cairo. The
tomato sauce held its own too; it was rich, but needed salt and pepper. All sandwiches are served in a soft and thick white bread that's not quite a baguette, but not quite the usual Egyptian fino bread either.
A Bite to Go definitely gives out a strange
vibe, in that the whole place seems to be pretty down on itself, but that may
be because we're so used to a razzmatazz when new dining venues open. Overall, there's
little to dislike about the restaurant's simple menu and modest approach.