Abou El Sid: Egypt's Richest Cuisine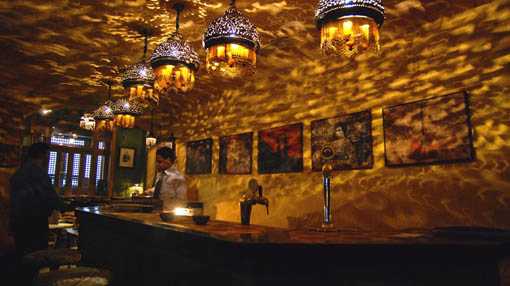 An enclave of rich tradition, Abou El Sid's Maadi location is a sure crowd pleaser for anyone wishing to sample some of Cairo's richer cuisine. Once a modest eatery, this restaurant did the unexpected by serving food usually reserved for household kitchens in an elegant atmosphere. Following its first branch's successful opening, the restaurant earned a mention in Condé Nast's Best 50 Restaurants in the World, and some of its prices have predictably increased.
Outdoor dining in the Maadi branch's scenic garden terrace makes it the perfect place for an evening of tea and shisha, where shrubbery and cosy lighting give the venue a cosy home feel.
The cuisine is well prepared with all the favourites, and tries at authenticity know no bounds: the menu advertises koshery with an 'Eat like an Egyptian!' by-line for a dish that is guaranteed to fill you up. Here you can sample everything from the tasty and delicate pigeon to the
chicken shirkasseya, a sizeable mountain of rice and poultry drowned in a
walnut-based sauce.
Liver, sambousak and mezza round out any meal, while an elaborate roster of starters from vine leaves to taameya make dining here an occasion to remember. Abou El Sid is also famous for its molokheya, served with a generous portion of chicken and rice. Keep in mind that you should be an avid fan of filling Egyptian cuisine to enjoy eating here.
If you still have room for dessert (go on, loosen that belt!) the om ali is strongly recommended as well as the fiteer with cream and honey. As with many of Abou El Sid's notoriously overwhelming selections, this is rich enough to share amongst friends. Relief comes in the form of tea and– but of course– shisha of many flavours.
The indoor section of Abou Sid maintains an air of grandeur, a throwback to times of past with the armchairs pulled up to large circular tables that rotate like a lazy susan– convenient for sampling all the dishes you are likely to order.
The walls are decorated with renditions of Egypt's classic celebrities of the past, from Om Kalthoum to Naguib Mahfouz, and elaborate chandeliers cast patterns on the walls. A 75LE-minimum charge is implemented in the evening, which discourages patrons from dropping by for just tea and dessert, but makes a full-fledged meal worth the trip.