Abou Salah Al Soury: Affordable Take Out in Zamalek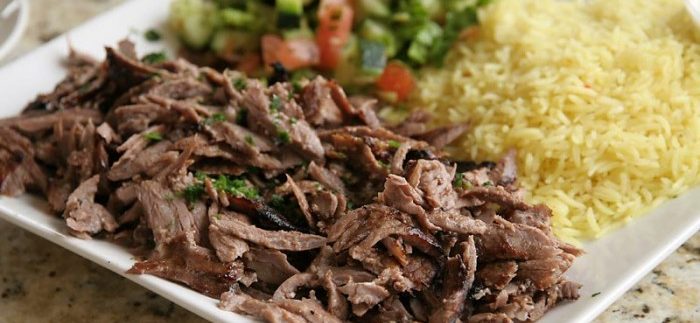 It's not always about lavish eating and spending in Cairo, sometimes, it's just a matter of getting through the day. When considering affordable restaurants in Zamalek, not a whole lot comes to mind, mostly because rent in busy areas like Zamalek is extremely high, restaurants are forced to charge higher prices.
We were particularly pleased with restaurants like Sandwich solely because of its 5LE menu, but another gem of Zamalek is a small kitchen called Abou Salah Al Soury, where the most expensive item on the menu costs 30LE.
To get a true sense of the menu, we decided to order a mixture of meals with rice and sandwiches. We opted for an Olives, Labneh and Zaatar (5LE) Saj sandwich, a Just Burger (8LE) sandwich and an Abou Salah Plate with Shawerma (23LE).
The food arrived after about 40 minutes packaged neatly. The Saj sandwiches were wrapped in foil and labelled, while the meal arrived in a covered and wrapped foil plate.
While normally ingredients that work very well together, the Labneh sandwich was unfortunately a little bland. There was no flavour running from the olives, and the discerning glue that ties a sandwich like this together – olive oil – was missing.
The Just Burger, on the other hand, was surprisingly tasty. Made with ketchup, mayonnaise, some lettuce and wrapped in saj bread, the Just Burger, at its price point, is a definite win.
The Abou Salah plate consisted of yellow basmati rice topped with meat shawerma and tehina, it also comes with sides of seasoned French fries, one cheese sambousak, one Kobeba and two vine leaves.
A fairly generous portion, the rice was well seasoned and created a good mixture with the tehina and shawerma, although we would've appreciated additions like fried bread croutons to give the dish a little crunch.
The fries, seasoned pretty strongly, were unfortunately a little soggy but nevertheless created an interesting flavour when dipped in garlic – which was surprisingly better than most. The kobeba, although relatively small, packed a lot flavour – probably a good sandwich idea. The sambousak, while packing a slight crunch, didn't impress, but didn't disappoint either. The vine leaves tasted just a little too sour, but not unpleasant.
Overall, it's a buck for bang deal, the food is not incredible, but at the same time it's not a miserable use of cheap ingredients. Considering the lack of affordable food options on the island, small take out kitchens like Abou Salah are becoming increasingly needed.