Abou Tarek: Downtown's Koshary Giant Still Going Strong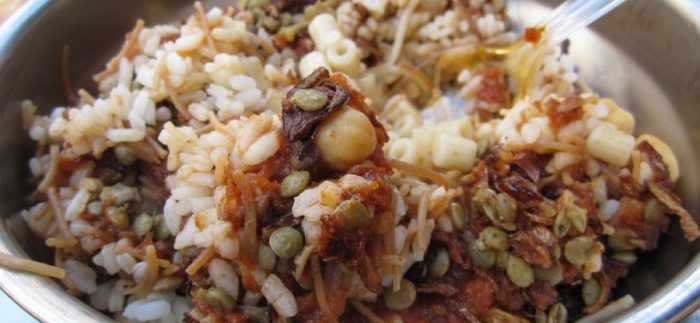 Whilst most of the newer restaurants in Cairo claim to serve up authentic Egyptian meals, nothing quite compares to the delights of longstanding, local koshary establishments. Downtown Cairo is packed with cheap and delicious koshary restaurants with fast, friendly service where you can opt to dine in or take away.
Building up an almost unrivalled reputation, just two blocks from Tahrir Square, Abou Tarek's restaurant is spread over two floors; a necessity due to its popularity and bustle.
However, the décor is a little more flamboyant than most koshary outlets, with artificial greenery and several large, tropical fish tanks, tempting customers to sit and eat. Downstairs, there's also a television if you like a little entertainment while you dine.
The generous bowls of koshary start from as little as 3LE, though it is possible to purchase a range of sizes for just a few pounds more. For 10LE, big eaters will be afforded a humungous portion. Of course, no koshary meal would be complete without the essential garlic dressing, da'a, and chilli sauce, both of which Abou Tarek do fantastically.
There is also a small range of canned drinks (4LE) and mineral water (2LE) to wash down that delightful meal.
We waited less than five minutes for two bowls of delicious koshary which werw not only served quickly, but also with a smile from the locals who run the establishment – just another one of the special, very vital ingredients that really do make a difference.
Though koshary is the main focus, should you have room for dessert, sweet, creamy rice pudding is amongst the options, and cost a mere 3LE per serving.
Serving some of the best-tasting koshary in the heart of Downtown Cairo, Abou Tarek has once again proved to be a must-go for all koshary fans.