Abou Tarek: Downtown's Koshary King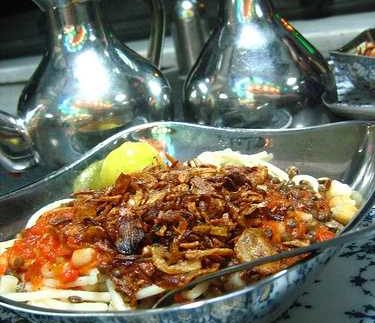 Few Cairo baladi eateries rise to international
acclaim. Abou Tarek is probably the only restaurant in Cairo that has been
featured on CNN, where customers can have a meal for 5LE. Established in
1950, Abou Tarek has become Cairo's
most famous centre for the traditional Egyptian street-food classic, koshary.
Once you arrive, you'll see how the fast-paced koshary
food service industry works. Within five minutes of being seated, your order
will be taken and delivered. Don't worry; it's normal for the wait staff to
collect your tab before you receive your plate. The waiters are super fast and
have mastered their order, money and koshary trade well. Abou Tarek has only
one menu item: koshary. So the only thing you need to decide is what size you
want it in: the 5LE-size, 7LE-size or 10LE-size.
In case you don't know, Koshary is a carb-lover's
dream. Crispy fried onions gracefully sit atop a chunky tomato sauce and
perfectly al-dente macaroni, rice and lentils. One of the reasons why Abou
Tarek's koshary triumphs over its competitors is because of its sheer freshness.
The extremely high turnover of customers who are both dining in and taking away
their delicious dishes ensure that ingredients haven't been laying out for
long.
Apart from the noodles and rice always cooked to
perfection, the secret to this koshary is the chunkiness of the tomato sauce,
the extra-crispy onions and all of the fix-ins that are available at the table.
On each table in the upstairs dining section, there are three flavour inducers
that a koshary lover can add to his liking. These are a very hot chilli
sauce, a lime and vinegar sauce and lastly a garlic salt.
Not only are these three sauces reason enough to dine
in, but the décor of simple metal tables, fake greenery and wonderful air
conditioning can really grow on you. If you hang out in the dining area long
enough, you might hear the Abou Tarek song that features the hard Egyptian pop
beat we all know too well, repeating 'Koshary Abou Tarek/ Abou Tarek/ Koshary
Abou Tarek!'
Abou Tarek is also a great take-away option. When
ordering take-away, the tomato sauce and hot sauce are packed separately so
that the noodles don't become soggy.