Adam's Doner & Grill: Traditional Doner at New Maadi Branch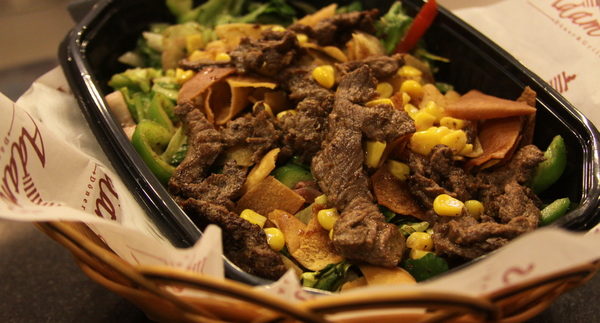 Adam's Doner & Grill's new Maadi branch lives up to its "eat well, live well" motto, shaving off succulent doner kebabs in the traditional wrap form or over rice or salad.
Regional variations on the meat sandwich have given us the doner, gyro and shawerma. And unlike the saucier shawerma, the perfect doner meat is slightly more dry than oily while maintaining a chewable texture. But the real difference between these versions lies in the glove.
Different from the bun or Kaiser roll made for a shawerma or the puffy pita of a gyro,
Adam's traditional Doner Kebab wrap (23LE) and its vegetarian falafel wrap use a thin, sturdy flatbread that is toasted like an Italian panini.
The doner wrap comes as a tight roll of sweetly seasoned lamb married with tzatziki, lemon tomato sauce, onions, tomatoes, lettuce, and parsley, and makes for a perfect snack or lunch on the run; while the falafel/fries sandwich (10LE) takes falafel and French fries garnished with lettuce, rucola, tomatoes, pickles, onions and tehina. The sandwich was savory and appetising but the falafel's texture was doughy, requiring a few more minutes in the fry.
Over it's special basmati rice (14LE) mixed in with crisped bread bites a la fattoush, almonds, tomatoes, and parsley, we chose the Tandoori chicken (15LE). The yellow grains were dry, and the cubes of breast meat, though tender, were faint in flavour and lacked the heat that the dish promises. We recommend ordering the beef strips or even the doner kebab instead of the chicken. Ask for extra yoghurt or garlic sauce.
Adam's salad (12LE) topped our review. The medley of chopped lettuce, tomato, cucumber, onions, capsicum, dressed with olive oil and pomegranate vinaigrette and topped with marinated beef strips (18LE) as well as corn for a Southwestern flavour, was exquisite and highly recommended.
To wash down, we ordered the Lemon Mint Freezer (14LE) and the Apple/Kiwi Freezer (18LE). The Lemon Mint was zesty and quenching, meeting our expectations, while the Apple/Kiwi would be best served in a bowl and spooned to a hungry infant. As fresh as it was pressed and blended, the apple was more of a chunky mash than a smooth, refreshing beverage.
Bring your baby.
Adam's swanky new digs is a welcome addition to the neighbourhood and features a brick-exposed interior, heavy black marble slabs for tables and a chandelier wired from cutlery. But with plastic plates and utensils for dining in, the Turkish vendor remains true to its street fare roots as a quick-service, fast food joint.