Agina: Zamalek Feteer Restaurant Opens New Branch at Americana Plaza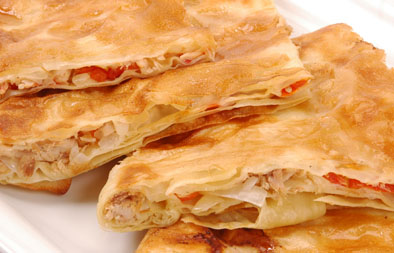 Feteer is a staple of Egyptian cuisine, and with no short supply of restaurants in Cairo serving it, it's all about the quality. Whether stuffed with sausages and cheese in some kind of weird nod to pizza, or with cream and honey, it's one of those foods that is very difficult to say no to.
With that said, Sheikh Zayed welcomes a new player; Agina. Located right on the sidewalk of Americana Plaza, with a small kitchen, a limited outdoor seating area, a few colourful looking chairs and round white tables.
We opted for a Mix Cheese (29LE), Chicken Shawerma Roll (21LE) and a Hot Dog Roll (18LE). The food did take longer than expected to serve, but that's because the feteer is baked on the spot.
Served first was the Mix Cheese, made with cheddar, mozzarella, rumy and Kiri cheeses, as well as chopped tomatoes and green peppers. Impressively, the Feteer was baked just thin enough not to stuff you on dough, while managing to avoid an overload of dripping ghee.
Unfortunately, the presentation was weak, choosing to serve their feteer on a paper mat in a tray, making it difficult to cut through without ending up with paper in your food.
While the wraps combined the same ingredients and dough used with feteer rolled up into a sandwich, there was nothing original about the ingredients. The Chicken Roll included chicken shawerma, tomeya, parsley and chopped vegetables, while the Hot Dog Roll was topped with mustard, ketchup, pickles, onions and cheese.
Despite the fact that most of the feteer available combined the same mixture of ingredients, the pastry of the rolls is definitely worth mentioning. Perfectly baked with a crispy layer on the outside, a delicate crusty layer on the inside, and, we can't stress this enough, not drenched in ghee, Agina's pastry gives it an edge.
To end our meal, we couldn't help but try the Nutella feteer (7LE), though we were disappointed that it only came with a licking of Nutella.
Overall Agina is a good place to grab a quick bite and go. While purists may point to the fineness of the feteer itself as a betrayal of the classic, homemade version that is so loved, we would point to Egypt's steadily expanding median waist-size.