Al Baik: Delicious Deep-Fried Chicken Meals in Cairo's Citystars
Inside City Stars, Phase 2, 1st Floor, Pyramids Food Court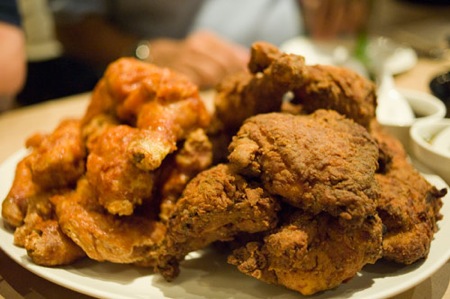 Fast food is
this reviewer's favourite comfort food. Whenever the going gets tough, we know
that we are always a phone call away from ordering eatable bliss. We decided to try Al-Baik and we weren't in the least bit disappointed.

The menu
features a few chicken sandwiches, chicken meals and a single fried shrimp
sandwich. We tried the super your sandwich (16LE): chicken strips topped with
smoked turkey, mayonnaise, lettuce, mozzarella cheese and a special basil-based
sauce. You can also add 9LE for fries and a soft drink. We loved the sandwich,
but the medium size left us a bit unfulfilled. Next time, this reviewer is
quitting any diet-related attempts and will definitely order the large size.
We also
tried the chicko broast sandwich (12LE). Sliced chicken is topped with lettuce,
mozzarella cheese and a special zesty sauce. The chicko broast sandwich didn't
differ much from the previous sandwich; both were equally delicious and tasted
a lot like each other.
Moving onto
the chicken meals, we sampled the strips meal. You can order either three
chicken strips for 14LE, five strips for 22LE or eight strips for 34LE. Served
with a scrumptious garlic dip, stale shami bread and a packet of French fries,
the strips were spicy and deliciously crispy. Squishy and oily, the French
fries weren't the best that we have tried. Although it left us with terrible
breath, the garlic dip could easily pass off as the best this reviewer has ever
tried.
We also had the
super meal (32LE). We were a bit disappointed because a soft drink was supposed
to accompany the meal, and we didn't receive one with our order. The meal consists
of four chicken pieces, Al-Baik's trademark garlic dip, French fries and shami bread.

We also
sampled the saving meal (30LE). This meal had the best of both worlds: two
chicken strips as well as two chicken pieces. Although we preferred the chicken
strips and thought the chicken pieces were a bit greasy for our liking, we
polished off the entire meal. Shami bread, French fries, coleslaw and a tiny
plate of rice were served with the meal. All the shami bread served with the
meals was disappointingly stale.
Al Baik has
established itself as this reviewer's new favourite fast food joint. We'll be
trying every single item on the menu a couple of times before we finally decide
that we have had enough.