Al Faqeer: Quality Kofta in the Heart of Haram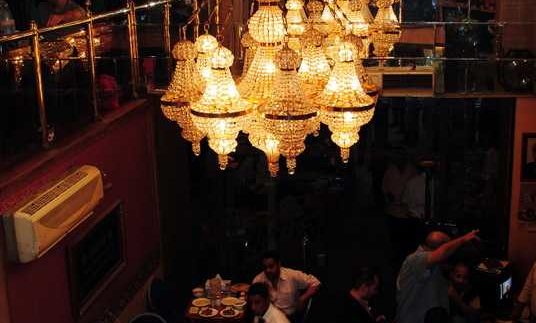 How do you stand out as a restaurant when you are preparing and selling the
same national dishes that grace the menus of thousands of Egyptian restaurants
in Cairo? The menu, like many others, lists trays of tehina and baba ghanough,
salads of cucumber, onion, tomato and parsley, a bowl of oh-so-salty local
pickles and a large stack of chewy Egyptian flat bread. What distinguishes Al
Faqeer, though, is the outstanding quality of their meat, which places them a
notch above other traditional Egyptian restaurants and makes the establishment
worthy of its popularity.
The restaurant is located far from Cairo's city centre on Haram's often
congested Faisal Street, and requires a drive through a lengthy stretch of the
neighbourhood. The restaurant stands inconspicuously in front of six lanes of
busy traffic, pedestrian-heavy sidewalks and unimpressive brown buildings.
Inside, the large restaurant is routinely packed with Cairenes, many of them
regulars willing to travel far from other parts of Cairo for Al Faqeer's food.
The half kilo platter of kofta and kabab for 55LE is one of the best that we
have sampled in Egypt. The velvety meat is sourced from a local farm and well
butchered, resulting in chunks of juicy protein with minimal gristle. The kofta
and kabab are charred over an open flame, and after cooking, the pieces are
immediately placed on a piece of flat bread; so patrons can enjoy the lovely
drippings of the meat that soak into the spongy bread.
The duo of roasted pigeons stuffed with your choice of rice or bulgur wheat,
also for 55LE, is another standout dish. At first glance, we worried that the
pigeon skin could be a touch more brown, but when we took the first bite and
heard the hard snap of well-roasted skin before sinking into the pink meat, we
were very satisfied. We particularly enjoyed the pigeon stuffed with bulgur
wheat, which was perfectly al-dente and less mushy than the rice inside the
other pigeon.
Many insist that the bone-in mutton shank is one of the menu's highlights.
While we personally find the taste of the mutton too strong for our liking, we
appreciated the beauty of the dish; chocolate-coloured meat against
silver-white bone. The mahshi platter of rice-stuffed zucchini, peppers and
vine leaves and the garlicky molokheya are good, but nothing special.
For an experience a little out of the ordinary, Al Faqeer offers a private
dining room for large parties, with its own television and bathroom, adding
another touch of luxury.
If you want to feel particularly special while eating a tasty traditional
Egyptian meal, go to Al Faqeer, reserve the private room, and order the kofta
and kabab. Keep in mind that a very large meal at Al Faqeer will probably not
cost you more than 60LE per person.