Al Karmeh: Light Lebanese Food in Maadi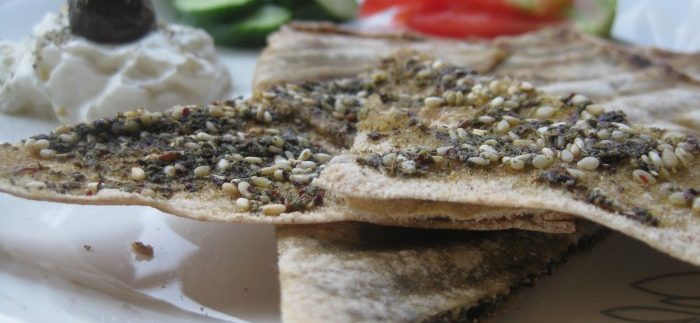 When in the mood for a light, easy-on-stomach late-night snack, there isn't much outside of fast-food across the Cairo dining scene. – well, that's what we thought.
We stumbled on Al Karmeh in Maadi on Road 231. The lights were bright around the modestly-sized venues and the restaurant uses the same red and white colours as in its logo. With an elevated-from-street-level wooden patio outside, the venue is perfect for a quick and quick snack.
As we walked in, the waiter behind the cashier greeted us and offered us menus. The restaurant offers light Lebanese cuisine — think manakeesh, alongside most of the traditional Lebanese salads including fattoush, tabouleh, humus, and spiced potatoes. We opted for a Kofta Karmeh (44LE) alongside a Zaatar with Cheese (14LE), Labneh (19LE) and Homemade Fries (10LE).
Service time was relatively short, but we realised shortly afterwards why that was. Offering the options of Saj or Oven Baked for all the manakeesh, we asked for ours toasted but received them cold. The Kofta Karmeh, meanwhile, was served face up in a pizza box; the dough had no discernible crunch to it, and the meat didn't really stand out in flavour, due mostly to a lack of seasoning. It was simply meat, cheese and dough with none of the subtle Levantine flair one expects of Lebanese cuisine.
The Labneh, served in wrapped saj bread that, again, wasn't toasted, also contained diced cucumbers and tomatoes, which was a nice touch, but was sorely lacking thyme and olive oil.
With the Zaatar and Cheese, the ratio was off, so unless you really like the tangy flavour of zaatar, you may find this mankousha a little much. Again, had it beentoasted , it would've made a world of a difference.
The homemade Fries were the surprising highlight of the whole meal. Retaining some crunch but still very fleshy, they made for a good side.
The problem with this type of cuisine now is that it's no longer a novelty. Not only is Shami food now available in any and every part of Cairo, you also have choices and price ranges. With all around average food, it's hard to see how a restaurant like Al Karmeh will compete, especially when there are three other Lebanese restaurants within walking distance of it.