Al Rowda: Food From the Gulf in Heliopolis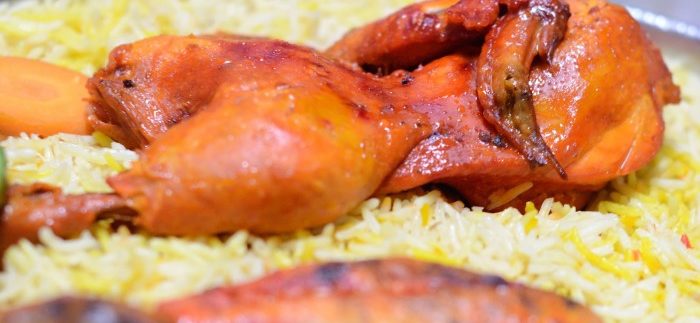 Despite the eclectic cuisines found around restaurants in Cairo, the food of our Gulf neighbours is often ignored, despite the close cultural proximity.
Usually seen strategically located in tourist hotspots, we were surprised to find Gulf restaurant, Al Rowda, situated in Hegaz Street in Heliopolis; an area known for its Egyptian cafes and eateries.
Brightly lit with a huge, eye-catching sign, the small venue dons simple aesthetics both inside and out. No more than five tables are lined up neatly inside opposite the ordering counter, with a slightly uninviting vibe, encouraging a fast turn-over of customers.
The menu consists mainly of chicken and beef family-sized meals. There are also assortments of tagines, sandwiches and kids meals, as well as sides made up of oriental pastries, dips and salads.
We started our meal with a salad combo platter (15LE) which consisted of green salad, tomeya, tahini and coleslaw. Despite sounding appealing, all of the salads and dips were bland and unappetising; we were on the verge of cancelling our mains of beef mandi (58LE) and a rawda meal (36LE) – a unique platter of chicken and rice served with fries, kobeba, sambusak and a soda, assuming they would be of the same quality.
Thankfully this was not the case; the generous portion of beef mandi tasted fabulous, made of an on-the-bone beef cutlet, grilled to perfection, served on a bed of rice. The Rowda meal's chicken was cooked using a mystery method, and tasted fantastic. Both the kobeba and sambousek were decidedly average when compared to the main dishes.
Although it's considered a Gulf restaurant, we were surprised at the absence of biryani or madby dishes; arguably two of the most popular cooking styles from the region.
Excluding the salad platter to start, our experience at Al Rowda was an enjoyable one, even if it can't be considered a high-end restaurant.