Al Shebani: Simple, Quality Yemeni Cuisine in Dokki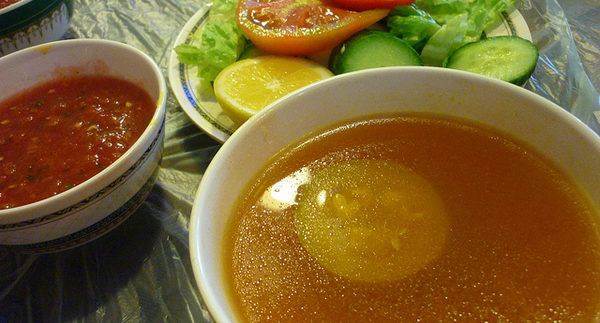 Dokki's Yemeni restaurant, Al Shebani, is a favourite among foreigners. Where most people tend to go to the one on Iran Street (creatively named the
Yemeni Restaurant)
; the place that has the visual appeal of a dining hall at a homeless shelter, the service is poor and it is almost always out of one ore more of the menu's staples. Al Shebani, on Dokki Street, is a true gem, though.
About a hundred metres away from the Tahrir Street intersection, the outside grill and the waiters bustling in and out with plates of food makes the restaurant easy to spot.
Al Shebani is a small place, but their food is far superior. We got a spicy tomato and feta blended dip (free), a simple cucumber and tomato salad (2LE) and some chicken broth topped with fenugreek (free) to start off. The dip was good, although a bit on the watery side, whereas the salad was a little dry. The soup tasted like a standard chicken broth; admittedly we were a bit suspicious of unidentifiable floating bits, but assumed they were just pieces of chicken.
As a main course, the fusuleyya (5LE) – a vegetable stew with either red or white beans – comes highly recommended. Aside from the beans, it had tomatoes and just a hint of coriander. For 17LE-25LE you can add meat or chicken to the dish.
Chicken with rice (40LE for a whole chicken, 20LE for half and 10LE for a quarter) is another favourite. It didn't look like much, with the chicken carelessly piled onto a heap of yellow rice, but the meat was juicy and the skin nicely crisp. Beware of the bones though.
Make sure to order a big slab of the delicious Yemeni flat bread (5LE) to scoop up your food with. Delivered straight from the oven, the bread is warm and soft, yet pleasingly crispy.
With the place being so small, the friendly waiters are just a wave of your hand away. Most of them don't really speak English and the menu only comes in Arabic, but hand-gesturing and pointing works just fine. An easy solution to lack of communication is to order a mix of their staples (fish, chicken, vegetables and rice) and they will fill your table up mezza-style. The food is served quickly and delivered to your table piping hot.
Bear in mind that Al Shebani is a simple place; don't expect super clean tables or a freshly swept floor. You'll get a plastic spoon to eat your food with – they don't even have forks – and a sheet of blank paper will serve as your tablecloth. The food from the grill is served in chipped stew pots on worn wooden trays and the cold food and side dishes are served on metallic plates.
Soft drinks (3LE) are drunk from the can, the tea (2LE) is served in a plastic cup and you'll also get plastic cups for water (2LE). The place has air-conditioning, but its effectiveness strongly depends on where you sit; so on hot and sweaty days you might want to move around a bit to find a good spot.
Aside from the tasty food, Al Shebani is a great value for money; a table filled with enough meat, rice and vegetables to feed four people only set us back a mere 65LE.