Alle Botti: A Spirited Gaming Restaurant and Local Heliopolis Hangout
Egyptian,International,Italian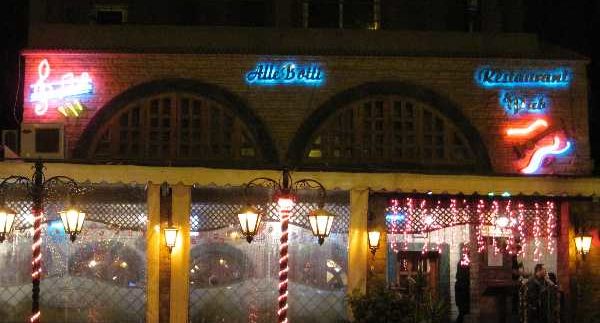 Despite its rather ambiguous exterior,
Alle Botti is one of Heliopolis' best kept secrets and the proud
hangout of many veteran regulars. The clacking sounds of backgammon
pieces and couples enjoying their beers while they nurse shishas suggest
an era of Heliopolis that has all but disappeared.



By night, beer is present at nearly
every table at Alle Botti, where they boast a large selection of
domestic and imported whiskey, gin and vodka. The prices are elevated
but still decent: a bottle of Stella costs 14LE, while other Egyptian beers and
drinks are under 20LE. For big spenders, they also offer a selection of
expensive imported liqueurs, including Chivas for a whopping 1350LE.



Alle Botti serves a variety of mezza
dishes, including hummus, taboula, tomeya, sambousak and liver. The meat
aarayes appetizer, at 20LE, is a personal favourite. Mouth-watering and
baked to crispy perfection, it's basically a far less greasy hawawshi.



For meat-lovers, Alle Botti makes a
mean double cheeseburger for 25LE.The chicken pané sandwich is
good too, but nothing out of the ordinary. The shish tawook and mixed grill dishes sell for between 40LE and 60LE and are
served with vegetables and rice or French fries. The sandwiches and the
oriental meals are consistently good, albeit predictable, and the
portions are generous.



The international cuisine options are
mediocre. The lasagne (or lazania, as it's listed on the menu) wasn't
lasagne. It was macaroni béchamel. To give it fair credit, though, it
was a tasty macaroni béchamel at that. The pineapple chicken curry could
have used more curry and a pinch of pepper.



However, the real treat at Alle Botti
is the dessert. The new Irish whisky ice cream was heaven; it
was served in a tall glass with layers of coffee, Irish whiskey and
vanilla ice cream. They also make a delicious Om Ali that's served fresh
from the oven in all of its many layers for only 15LE. Two shishas, a
couple of beers, an appetizer, two main courses and a dessert can cost
just over 200LE.



When dining at Alle Botti, it's better
to stick to classics like sandwiches or oriental dishes. The restaurant
maintains its competitive edge by offering a wide range of beverages
and great shisha. The restaurant's regulars play dominos
and backgammon until the wee hours of the morning; so if you're a
serious backgammon player, this is where you belong.