Amo Hosny: Cairo's Best Baladi Burger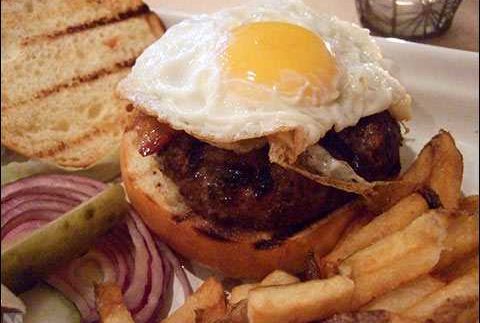 Some days in Cairo,
there is no solution for the munchies better than one of the local specialties–
baladi burgers. For those who don't know it, baladi burgers are characterised
by their relatively thin burger patty topped with an egg that's cooked over
easy. All over the city, baladi eateries offer up this item, but the best in
Cairo is none other than Amo Hosny, the self-proclaimed 'King of Sandwich.'
In the history books of famous Egyptian entrepreneurs, Amo Hosny is said
to have opened a roadside cart in Heliopolis' Triumph Square in 1996. Many old-time
veterans still remember those days. Since then, not only has he set up shop, but
Amo Hosny has also managed to open up over a dozen more branches mostly in and
around Heliopolis .
Amo Hosny built his burger empire on what the menu calls the classic
burger (16LE), which is a 250-gram meat burger with tomatoes, onions and cheese
or egg. We suggest opting for the egg for an authentic taste. The magic isn't
only in the burger of a dozen spices, but also in the texture and extra zing of
the egg paired with the forever fresh fix-ins, which make a delightful treat.
If you're starving, try the double cheeseburger (19LE), which doesn't
come with egg; but with 500 grams of beef, it is enormously filling even for a
big appetite. If you're not a beef lover, try the chicken sandwich (17LE),
which is a 250-gram patty and comes with the option of egg or cheese. While
it's not as amazing as the burger, it is a yummy option for those who don't
like red meat.
What separates Amo Hosny's burgers from those of his contemporaries is
the meat itself. It's juicy and wholesome, and though it's definitely not
homemade, it's a pretty classy baladi burger and still cheaper than a lot of
the burger joints around like Burger Kitchen.
As for desserts, there are plenty of sweet sandwiches to choose from.
Frankly, we were disappointed by the eshta and halawa sandwich (3LE). Although
the sandwich ingredients were tasty, we really wished the sandwich was toasted
and fresh out of the oven. The combination of white bread, cold eshta and honey
had just too much fluff to bear.