Andrea: Ramadan Fetar at Great Egyptian Classic
60 Marioteya Road (Faisal side)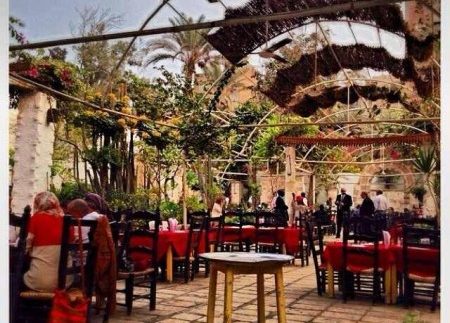 There are few restaurants in Cairo that holds as much of an eclectic history as the original Andrea. Located along the Marriotteya Canal that cuts across the mammoth Faisal and Haram Streets, the specialist grill has attracted tourists and locals alike for years, while also formerly being one of the top venue choices for event organisers.
The area which the restaurant takes is more of a small compound, with a labarynth of an outdoor seating are taking up most of the space. Greenery surrounds said area and the seating and tables are rather basic and economical, though the whole atmosphere nods to that intangible 'Old Egypt' feel.
A point of pride for the restaurant is the fact that their concise menu has never changed, offering a handful of starters and mains, along with mezzas and salads.
Reservations at Andrea are mandatory during Ramadan and our part of five was advised to arrive at 6.20 – a good forty or so minutes before the call to prayer. This is to give you enough time to order and, to the staff's credit, our food was served right on time.
Our waiter claimed there to be a total of ten different mezzas (9LE each) and salads (6.50LE each), so we ordered the basics. The two standouts were classic Oriental mezzas; the tomeya was suitably tangy and the baba gahnough was smooth and tasted fresh. Other dishes included a fairly straightforward plate of beetroot, a loaded serving of green salad and a flavourful tehina.
From the starters, the sambousak (25LE) was outstanding. Stuffed with white cheese and mint, the dough itself had been fried to a perfect crisp. Other starters included well-cooked, if rather ordinary, chicken liver (30LE) and meatballs (30LE), which are misleadingly listed as kofta. Yes, the theory is the same – seasoned and spiced ground meat – the meatballs at Andrea are much more tender than the traditional kofta and sport a slightly hard shell. Unfortunately, they lacked the seasoning that gives kofta a kick.
We also tried the chicken wings (20LE), which are of the 'drumstick variety' – easy to pull off the bone in one swift bite. Again, these were cooked perfectly with breadcrumb exterior, but lacked flavour.
Andrea's real pull is thanks to their grills. Upon entrance to the restaurant, patrons will see a mass grilling with chickens lined on skewers as far as the eye can see, like some sort of hellish dystopian field, where chickens are grown and cooked.
Half a chicken will set you back 35LE, while boneless chicken will set you back 45LE. As expected, the chicken is cooked perfectly and bursting with flavour. Poultry fans might also want to give the quail (45LE) a try – a whole bird is served on your plate, leaving you to roll up your sleeves and get messy.
As pretentious as it may sound, the staff at Andrea understand and consider the status of Andrea as one of the most popular restaurants in Cairo. This translates into friendly and prompt service – a necessity in the busy month of Ramadan. Andrea might not hold the same kind of prestige as years gone by, but the quality of its food is as good as ever.