Angus Brassiere: Argentinean Steak in That 70s Basement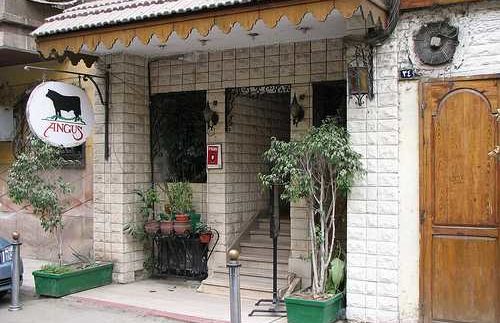 Stepping into the
Angus Brassiere inside the New Star Hotel in Zamalek is like walking into a
time warp back to 1976, and that's no exaggeration. The place looks like it hasn't been touched
since its inception. Upon our arrival,
the staff jumped to put the scratchy stereo to the tune of Celine Dion and
other such power-pop ballads for our listening pleasure – inadvertently enhancing
the basement mystique. It was a bit
scary.
To be fair, the
place is cosy, or perhaps once was, back in its heyday. The dark wood and booth seating could either
be seen as classy or depressing, but definite effort was put into making it a
pleasant place to dine. A small nook by the window looked positively idyllic,
and the lanterns on the wall added a touch of old style charm. Too bad they had to sloppily prop a fan on a
table as there's no AC – or rather, it's broken – and too many tired knick
knacks and an old TV only added tackiness.
Slightly afraid
to order, being the only customers and remaining so for the duration of our two
hour stay, we braved it and requested a Greek salad (19LE), the house special Argentinean asado steak with chimichurri
sauce (56LE), and a striploin fillet with pepper sauce (65LE – mushroom,
mustard, blue cheese, and hot chimchurri sauces also available). We weren't encouraged when the bread came and
was basically mini hot dog buns out of a package.
Thankfully
however, the Greek salad was fantastic – a large bowl full of succulent fresh
vegetables with clumps of creamy feta style cheese, herbs, and potent olives – and
satisfied our veggie craving and then some.
The steaks looked more like something off of a backyard grill than what
you'd order at a restaurant, but they smelled gorgeous and the barbecue flavours
were particularly well captured. The asado, a 400 gram piece of meat, was a bit disappointing, being thick, laden
with fat and gristle, and surprisingly very rare, despite our request for medium.
The floppy steak knife didn't help. The chimichurri sauce was a kind of sweet
and sour salsa that didn't necessarily compliment the huge piece of meat, but
the fries were tasty.
The fillet was
much better, being the proper 'well done' we'd asked for, turning out tender,
juicy and flavourful. After eating as
much as we could (though the fillet was finished, we gave up on the mostly raw
and chewy Asado), we opted for Argentinean crepes (22LE) for dessert;
apparently these are crepes with cream and chocolate sauce. To our disappointment the waiter came back to
tell us there was an issue with the crepe-making process and so we'd have to
order their mixed ice cream (20LE) instead.
If we'd known this
would be comprised of two vanilla ice cream cups with bits of mango ice
cream and melted chocolate drizzle, we would have opted out, but c'est la
vie. The two-page menu also offers soups
(18-20LE), appetisers (20-28LE), and various steaks such as tournedos, t-bone,
prime rib, as well as fish, calamari, and chicken curry. We're just wondering who dines here, and how
they manage to keep the place running.