Aqua: Nouveau Japanese on the Nile
Inside Four Seasons Cairo At Nile Plaza Hotel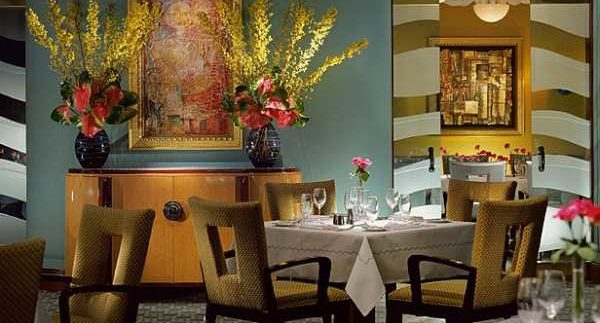 What makes dining at the Four Seasons Nile Plaza as fun as it is extravagant is how very different each restaurant is from the other.

Aqua, the seafood restaurant that focuses on sushi and Japanese cuisine, takes dining to the next level with its entranceway fish tanks. While you might find it ironic,gazing at the tropical fish swimming in their tank while you prepare to eat, well, fish, the aquarium gives the restaurant an enjoyable aquatic feel. With the bold wallpaper of gold zebra print adding a hint of exotic décor to the restaurant, you know you're in for a treat.

The service is generally polite and impeccable – you don't need to wave to get their attention, catch their eye and they'll be over in a flash. The waiters are well versed on the menu items and apologetic if a particular catch isn't available that day, assuring you that they absolutely cannot serve you something that isn't the freshest of the fresh.

What makes Aqua stand out from other sushi and Japanese restaurants is that it brings us something fresh and minimalist: seafood with a Japanese twist, plenty of seared teriyaki selections, as well as an excellent sushi menu. Again, the key element is that quality ingredients take precedence over elaborate inventions as is usual from an eatery that specialises in sushi. Still, the various rolls of spicy salmon, yellow tail and shrimp have never disappointed. You might get a bit more for your money at the lower-key sushi venues around town, but the difference is in the taste, making it worth visiting at least once to compare.

This being the Four Seasons, an extensive list of imported wines and brews are available along with nearly any soft beverage you may desire. The dessert menu is limited but delightful, highlights being the dark chocolate torte and fresh sorbet assortment made in house.

Definitely a venue to reserve for formal and special occasions, Aqua is dazzling with something of a sombre touch and feel—don't expect to party the evening away here. As is to be expected of a Four Seasons venue, prices are a bit high and a meal for two rarely falls below the 400LE range.