Arabesque: Downtown Retro Fetar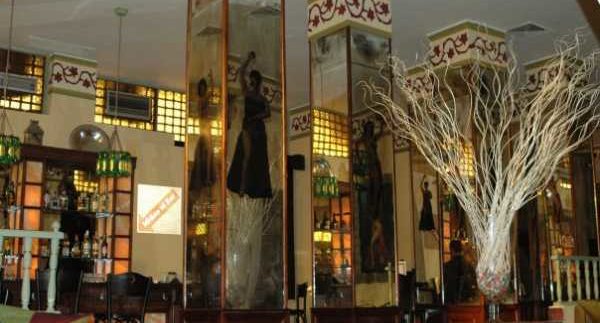 Arabesque restaurant on Kasr El Nil street is decorated in a
celebration of retro-chic deco design, from the patchwork silk pillows lining
low, satin couches to mismatched pottery dishware. Gentle, gold-hued lighting
ensures that the retro-heavy look is a little more chic than shabby. The
restaurant's bright walls, orange ceiling canopies and gaudy plastic fawanees chandeliers
(replacing their trademark Stella bottle chandeliers) lend a trendy rather than
cheap atmosphere.
Arriving for fetar on a weekday afternoon,
we were struck by how different the space feels when nearly deserted. On most
evenings, the walls strain to accommodate its boisterous clientele, but at the time of our visit, the few occupied tables were tucked away by the mashrabeya-screen windows.
Surprised to find the normally packed restaurant empty save for a few families,
we soon decided that the crowds were missing out. For the month of Ramadan,
Arabesque offers a set fetar menu for just 85LE, a considerably moderate price
when compared to most other Ramadan set menus.
A few minutes after wait staff seated us in
a comfortable corner; bowls of lessan asfour soup were whisked to our table,
along with servings of green salad, tehina, hot vine leaves and shami bread.
The soup was a flavourful broth with orzo;
simple yet comforting when garnished with the accompanying lime. Early on, we realised
that we had committed to a meal of overwhelming proportions, yet one so tasty
that we couldn't resist attempting to finish everything in sight.
The salad dressing was a pleasant balance
of citrus and olive oil, although the diced lettuce, tomato and onion
composition soon turned soggy. The vine leaves were petite, acceptably textured
with robust spicy flavour and nicely balanced by fresh mint and yoghurt. The tehina's tart, concentrated flavour
arrived in generous portions that ensured it lasted as an accompaniment for the
main dishes to come.
Our main course of molokheya with fried chicken
was neatly presented: a boneless chicken thigh nestled near a mound of white
steamed grains. The rich well-flavoured stew struck a balance with chilli and
onion garnishes.
The mixed grill was opulent; a substantial
section of liver, cubes of tender beef skewer, lean marinated chicken and
stacks of kofta were arranged on a platter. The medley was accompanied by a
mountain of aromatic red rice with heavy notes of cumin and currents.
Arabesque's kitchen deserves some serious
credit for serving a meal where nearly everything was a hit– besides the
slightly soggy salad and some overly salty kofta – which is rarely seen in
fetar-serving restaurants. At one point we had to go fetch our waiter
ourselves; and when our kharoub was so fermented that it tasted nearly
alcoholic; the earnest waiter tried to convince us that it was fresh, but
eventually replaced it with much sweeter karkadeh. Still, the meal still left
us duly impressed. In attempt to sample it all, we couldn't clear a single
plate; but it wasn't for lack of trying.
Leaving our company in an ever-deepening
stupor, the meal drew to a close with tea, served in a rickety, glazed metal
teapot, and small plates of konafa, basbousa and zalabya, which we sat through
out of obligation– but our hearts had already been won over by the main courses.